Please forward this ezine to anyone who'd like to create their best life.

RealityShifters News - December 2006
Create Your Best Life!
How Good Can it Get?


Learn to Create Happiness

"Sometimes your joy is the source of your smile, but sometimes your smile can be the source of your joy."
-- Thich Nhat Hanh

While December is a month of celebrating and holidays, it is also a stressful and depressing time of year for many people. Fortunately, it is possible to create happiness by smiling, even when you may not feel like smiling at all. The picture of me at the top of this month's ezine was taken with my laptop computer's built-in camera just minutes after I'd been very sad and crying. I found that just by smiling and watching myself smile, I felt better immediately. I felt even more buoyed up after spending an evening watching comedian Robin Williams perform some new material live in San Francisco this week. Laughter and smile therapy really does work!


Get The Secret with a FREE trial of the Spiritual Cinema Circle this December

I got the idea to try smile therapy on myself from reading several reports that it is possible to get nearly instantaneous improvements in mood by smiling and laughing, even if at first you don't feel in the mood for such merriment. Recent studies indicate that people notice long-term improvements in their overall happiness when recalling at least three good things that happened each day, a new kind of yoga is teaching people how to work their smile muscles in order to feel better emotionally and physically, and researchers at the University of Maryland School of Medicine have established a clear link between laughter and healthy functioning of blood vessels. With so many reasons to laugh and smile, its time to let a little more happiness come shining through!

One of my favorite ways to put a smile on my face is to view my very own personal music video vision statement, which you can learn to create by watching Malcolm Cohan demonstrate. When you hear a favorite uplifting song as you watch images of yourself doing and being all that you wish, it is so much easier to relax and imagine how all your favorite dreams really can come true. And if you find yourself needing a bit more confirmation that this sort of thing can really work, watch this years' movie phenomenon, The Secret, which explains the principles that make this kind of positive visualization so very effective at changing the physical world. December really can be your lucky month, since The Secret will be sent to you along with some other wonderful spiritual cinema movies when you sign up for a free one trial of the Spiritual Cinema Circle this month!



Wishing you the merriest December ever,
Cynthia Sue Larson
email Cynthia at cynthia@realityshifters.com




---
Books & CD by Cynthia Sue Larson:

"Speculations, theories and experiments from quantum science have now been entered into the debate which suggest that our world is far more mystical, complex, interactive and even humorous than the sterile, mechanistic dogma of classical scientific thought. Read, enjoy, be amazed, ponder REALITY SHIFTS"
-- Edgar Mitchell, Sc.D., Founder, Institute of Noetic Sciences & Apollo Astronaut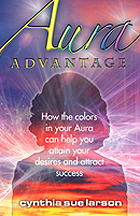 Aura Advantage is "In a chaotic and unpredictable world, Aura Advantage offers its readers grounding, inspiration, and hope."
-- Stanley Krippner

Aura eBook!

This empowering booklet provides tips for making every day the best it can be by harnessing the power of your aura.

The Aura Healing Meditations CD will help you improve your aura... and your life... in every way.

Karen Kimball "... combines the mystery of a Nancy Drew with the metaphysical daring-do of a Harry Potter book"
-- Alijandra
Order autographed books & CDs
in the RealityShifters Shop
including the newly released


Aura Advantage book!



---
In This Issue:

(1) Spiritual Life Coaching
(2) Upcoming Events
(3) Intriguing Articles & Interviews
(4) Your Reality Shift Stories
(5) Reality Shifting Q & A
(6) Reality Shifters Award Winner
(7) Reviews that Shift Your Reality
(8) Join in the Discussion
(9) Noteworthy Web Sites & Ezines

---
(1) Spiritual Life Coaching

Feeling stuck? Want help facing a challenging relationship? Need clarity making an important decision? Could you use some help shifting your reality? Are you curious to know your divine gifts? Are you ready to feel energized? If you answered yes to any of these questions, you can benefit from Spiritual Life Coaching with Cynthia! Contact Cynthia at cynthia@realityshifters.com to set up a life-enhancing telephone consultation today. http://realityshifters.com/pages/consultation.html

"Thank you so much, Cynthia! It is always such a joy to speak with you. One immediate outcome of this meditation is that there has been so much laughter in my office since! And in my life outside work, so much palpable love." Much love, -- Esther

---

(2) You're Invited to Fabulous Upcoming Events

Create the Best 2007!
20 January 2007
Davis Holistic Living Expo, Davis Senior Center, 646 A St. at 7th St., Davis, CA

Tired of making New Years resolutions that are too soon forgotten? Find out the top ten reasons resolutions fail, and what you can do to make 2007 your best year ever!
http://www.holisticlivingexpo.com/
FREE Pass ($5 Value)


Create the Best 2007!
28 January 2007
Pleasant Hill Holistic Living Expo, Pleasant Hill Community Center, 320 Civic Drive at Taylor, Pleasant Hill, CA

Tired of making New Years resolutions that are too soon forgotten? Find out the top ten reasons resolutions fail, and what you can do to make 2007 your best year ever!
http://www.holisticlivingexpo.com/
FREE Pass ($5 Value)


---

Schedule an Event with Cynthia!
Would you like to invite your friends to attend an aura advantage workshop in your home? If you live in Northern California and are interested in planning such an event, email Cynthia for further information at: cynthia@realityshifters.com
Cynthia's schedule of events for this year is posted online at: http://realityshifters.com/pages/events.html


---

(3) Intriguing Articles & Interviews

No Joke: Laughter Yoga Stretches Into OC
by Gillian Flaccus
Contra Costa Times
30 November 2006
This is no joke: It's a typical day at sunny Main Beach and a dozen people are wandering around with their hands in the air, laughing hysterically, squawking like chickens and talking gibberish. Now limbered up, they suddenly form a loose circle and begin clapping and chanting before they resume a group stretch. This is laughter yoga, a sidesplitting new fitness fad that's part traditional yoga, part improv and all silliness.
http://www.contracostatimes.com/mld/cctimes/news/16132514.htm

Researchers Seek Routes to Happier Life
by Malcolm Ritter
The Sun Herald
26 November 2006
Several exercises have shown preliminary promise in recent research into how people can make themselves happier -- not just for a day or two, but long-term. It's part of a larger body of work that challenges a long-standing skepticism about whether that's even possible.
http://www.sunherald.com/mld/sunherald/news/breaking_news/16103381.htm

Laughter Helps Blood Vessels Function Better
by Bill Seiler & Ellen Beth Levitt
University of Maryland School of Medicine
7 March 2005
Using laughter-provoking movies to gauge the effect of emotions on cardiovascular health, researchers at the University of Maryland School of Medicine in Baltimore have shown for the first time that laughter is linked to healthy function of blood vessels. Laughter appears to cause the tissue that forms the inner lining of blood vessels, the endothelium, to dilate or expand in order to increase blood flow.
http://www.umm.edu/news/releases/laughter2.htm

Reality Shifting Films
What do movies and TV shows like The Secret, What the Bleep Do We Know, Just Like Heaven, Indigo, Tru Calling, The Matrix, Frequency, Wonderfalls, Dark City, Sliders, The Lathe of Heaven, Sliding Doors and Passion of Mind have in common? These films feature the reality shift phenomenon in their plots. I find it especially refreshing to see films that describe reality shifts close to the way I've experienced them myself, and I am grateful that reality shifts are being featured more often than ever in film!
http://realityshifters.com/pages/films.html


---

(4) Your Reality Shift Stories

Cordless Bungee Jumping
Kris
San Carlos, California

I really like the 'Your Stories' section and I wanted to share a story! I was sitting at home one day, thinking to myself about reality shifting, and thinking how cool it would be if I had a bunch of friends who could bend reality. I thought we could have a cordless bungee jumping group where we simulated the bounce of a bungee cord but were just making ourselves bounce up and down in the air without a cord. I know that sounds crazy but I was just daydreaming about how funny that would be. The thing is, I thought of us having a really crazy slogan. I figured we'd try to teach more people how to do it by saying, "cordless bungee jumping, why not, they do it with cell phones!"

So I didn't think anything of it. Then about a week later I went to Santa Cruz with my friends. We were walking down the street, when all of a sudden a guy yelled out, "Who wants to go cordless bungee jumping?!" Then he turned right towards me, got even louder and said, " Why not, they do it with cell phones!"

I know this is weird. I wanted to stop and talk to the guy but I was just too shocked and I didn't know what to do. Plus I figured that even if I didn't stop and talk to the guy, somehow my life was going to keep getting cooler anyway.

So now I feel that mind/consciousness really is the substance of everything and that that I'll be able to start controlling the nightmares in the world around me for more positive results just like I'm working to control the nightmares in my dreams at night!

Thanks for the coolest website in the universe!


-=-=-=-=-=-=-=-=-=-=-=-=-=-=-=-=-=-=-=-=-=-=-=-=-=-=-=-=-=-=-=-=

Thank You for Sharing this Message with a Friend!

Would You Like to be a Subscriber?

You can view all past issues & subscribe by visiting:

http://realityshifters.com/pages/news.html

-=-=-=-=-=-=-=-=-=-=-=-=-=-=-=-=-=-=-=-=-=-=-=-=-=-=-=-=-=-=-=-=

Disappearing / Reappearing Pendulum
Jack
Sacramento, California

A few days ago, I lost the pendulum I always carry with me and it upset me much more than I expected. I have lost pendulums before; I make my own and have spares; but I continued to search with no success. Yesterday I was doing some things at my desk and listening to your CD when my wife called me to dinner. After eating, I washed the dishes, did my teeth and returned to my desk, and there was my pendulum! It was beside another pendulum used to check my disks and it is absolutely impossible that it was there when I left to eat. Each pendulum has a piece of withe sea shell the size of a quarter and are very visible. I was shocked, overwhelmed with disbelief and wonderment, yet there it was. This must be a reality shift, but so what and now what? My dreams keep telling me there is a new life in store for me at a much higher level than where I am now. Is this part of it? I have decided to play your CD every day and I keep your card smiling at me on my desk.


Stolen Briefcase & Money Appears
Gloria
Maine

One year ago, my husband and I took a business trip across the country. On the return trip we had an item, a leather briefcase, that was stolen out of our checked baggage. I really liked this briefcase and have never seen another like it. After this happened, I contacted the airlines and reported the theft, but nothing ever came of it.

A few days ago I was relaxing, and my thoughts kept going to my stolen briefcase, which I was still lamenting over. Today as I was making preparations for a trip, I went down to the basement to get a suitcase. When I opened up the suitcase I almost keeled over. Inside of it was my briefcase that had been stolen out of my baggage a year ago! The briefcase was a bit scuffed up and worn on the edges, as if it had seen much use since I saw it last.

Even though I have had so many reality shift experiences in the past I am still totally amazed when it happens. My favorite experiences are the ones where I have manifested money out of nowhere. One time I was meditating and when I was done I arose off the floor and there were two brand new five dollar bills laying where I had been sitting. I'd like to have that happen more often!



---

(5) Reality Shifters Q & A


Q: I'm currently using creative visualization techniques to improve my health. Afraid I didn't know enough to do a good job as a young woman and I'm definately paying the price now. I have a question if you care to respond, and if you've actually written about it on your site, then I apologize in advance. Here goes: When a person visualizes something, don't you mentally thread through the dimensions until you find the picture or condition you are thinking about? If so, couldn't you use the computer copy and paste idea to create a new and better reality for yourself? (This seems like a form of direct projection to me.) It seems logical to me and much easier than actually trying to do astral travel, which I have never been successful with.
Thanks!
-- Carolyn

A: To respond to your query, there are many ways to visualize... and one of those ways is just as you describe... seeking through the imaginal realms of various possible futures until finding the one that feels best. In my experience, while it's possible to use the analogy of a computer copy and paste technique for reality creation, there's a much greater sense of satisfaction and connection with the universe to co-create... meaning to send out the vision of what's desired, and receive the information and energies of that which feels best. This works both for influencing the future and the past.
lots of love,
-- Cynthia


---

(6) Reality Shifters Award Winner

I am proud to announce this month's winner of the Reality Shifting Award, for recognition of demonstrating consistent excellence in web site content and design, while helping people shift their reality in a positive direction:

Vision Statement
http://www.visionstatement.org.au/Homepage.html
Be audacious! Bring a smile to your face as you think about your future! Make a VISION Statement that will help you manifest something wonderful for yourself and the world. Malcolm Cohan will inspire and entertain you as his own vision statements show you how you can envision your best possible future.


---

(7) Reviews that Shift Your Reality

Here is something that will give you nourishing food for thought! Every time you click through these links before making purchases at Amazon.com, you help offset the costs of the realityshifters web site and ezine! This is true even if you don't buy anything listed on the realityshifters site. You can see some of my favorite books at: http://realityshifters.com/pages/reviews.html



Clear Your Clutter With Feng Shui
Free Yourself From Physical, Mental, Emotional, and Spiritual Clutter Forever
by Karen Kingston

Feel Much Happier in Your Home & Life
http://amazon.com/exec/obidos/ASIN/0767903595/realityshifts

CLEAR YOUR CLUTTER WITH FENG SHUI is a delightful how-to manual that helps clear out clutter in all areas of our homes, by addressing the underlying reasons that things tend to get so cluttered in the first place. As author Karen Kingston points out, "clutter is stuck energy," and she shares powerful insights as to why it is that some people get so attached to junk that it can literally overflow throughout the house, threatening the health, well-being, and sanity of those who live there. While the chapters on discovering various clutter proclivities is fascinating reading, my favorite part of CLEAR YOUR CLUTTER is using the feng shui bagua to determine which sections of the living area are most cluttered. Kingston explains that those most highly cluttered areas indicate which parts of one's life is being most sabotaged. Rather than baldly stating such potentially controversial points without supporting evidence, Kingston encourages us to see for ourselves what a difference the presence or absence of clutter has on our well-being. She suggests we pick an area in our lives that is not going as well as we would desire, and clear out the clutter in the corresponding part of the house in order to witness the positive results of this clearing for ourselves. From realistically assessing the clutter situation, to noting what effect the clutter is having, to finding the underlying clutter causes, to clearing the clutter away, I can think of no better single resource than CLEAR YOUR CLUTTER. Anyone wishing to find an inexpensive way to bring about radical, positive change in their life will benefit from reading CLEAR YOUR CLUTTER; I give this book my highest recommendation!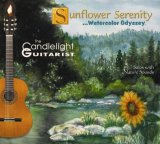 Sunflower Serenity
Watercolor Odyssey
by The Candlelight Guitarist

Uplifting & Relaxing Guitar Instrumentals
http://amazon.com/exec/obidos/ASIN/B000JLPMOY/realityshifts

SUNFLOWER SERENITY has sixteen songs totalling over an hour of beautiful instrumental guitar melodies which are interspersed with soothing sounds from nature. The Candlelight Guitarist's guitar solos perfectly complement birdsongs, ocean waves, babbling brooks, and wind through trees. Listening to this album is immensely soothing and uplifting at the same time... the perfect music for getting or giving a massage, for a romantic dinner for two, for meditation, or for music to read by. Each song has its own fresh sound, yet all go together smoothly. The song titles are remniscent of spending a day in the garden, with themes revolving around flowers, birds, the hammock, hummingbirds, ladybugs and caterpillars, as the music transports us to a beautiful spring day in a sunny garden by the sea.



---

(8) Join in the Discussion

Do you have questions you'd like to ask, or reality shifting stories you'd like to share? Have you read good books, seen intriguing movies, or found a web site that relates to reality shifts? Get the inside scoop on reality shifts, contemplate the big questions and make new friends in the realityshifters discussion group at:
http://groups.yahoo.com/group/RealityShifters
---

(9) Noteworthy Web Sites


CALL WAVE
CallWave Fax delivers faxes directly to your email without any need for a fax machine or second phone line. Get CallWave Fax FREE for the first month, then just $7.95 per month after that.
http://www.anrdoezrs.net/click-1994406-10448131



KA GOLD JEWELRY
Find the perfect gifts for people who have everything! Ka Gold Jewelry also has fascinating free articles about spiritual symbols and sacred geometry which explain the advantages of wearing jewelry designed according to these ancient principles.
http://www.ka-gold-jewelry.com/index.php?ref=42


Get The Secret with a FREE trial of the Spiritual Cinema Circle this December
SECRETS TO ATTRACTING SUCCESS
Discover a practical method for attracting all the money, power, and every kind of success you desire. This system is down-to-Earth and easy to understand and implement immediately. FREE instant access!
http://thepowerfulcreator.com/cgi-bin/uam/x.cgi?a=r&id=1&aid=2&p=2
SPIRITUAL CINEMA CIRCLE
By now you have probably heard about The Secret.. the phenomenal film that's already changing millions of lives around the world. You can get it now through the Spiritual Cinema Circle, along with three great short films. For a limited time, as a special offer for the month of December, new subscribers to The Circle can receive a FREE one-month trial membership (you only pay shipping of $4.95 domestic or $7.95 international).
http://www.spiritualcinemacircle.com/?af=17252
TAROT READINGS -- FREE!
Free tarot card readings can help guide you through your troubled emotions and clouded thoughts.
http://www.free-tarot-reading.net/index.php?affID=1006
TRANSFORMATIONAL BOOK CIRCLE
Louise Hay and Barbara de Angelis have changed the lives of millions of people... and these remarkable women credit books with changing their lives. Join the Transformational Book Circle and you will receive one book and one audio CD each month:
http://www.transformationalbookcircle.com/?af=17252
WILD DIVINE
Now you can try a free demo of the most amazing computer meditation biofeedback system ever. I feel like I'm in Shangri La in Wild Divine, where I can build stairways with my breath, meditate to open doors, and juggle balls with laughter. It's awesome!
http://www.myaffiliateprogram.com/u/wdivine/b.asp?id=1978&img=120x60.gif
---

4,000 RealityShifters News Subscribers live in 81 different countries around the world -- with the majority in the United States of America, Canada, the United Kingdom, Australia, Africa, New Zealand, India, the Netherlands, Malaysia, Mexico, Italy, Sweden, Germany, Brazil, Belgium, Singapore, South Africa, the Philippines, Japan, Norway, Ireland, Denmark, Spain and Israel.


---
Your One Stop Reality Shift Shop

RealityShifters has a secure "Shopping Cart"
to make it easy to view and place your order.
Get autographed copies of AURA ADVANTAGE & KAREN KIMBALL,
the AURA HEALING MEDITATIONS CD and more at:
http://realityshifters.com/pages/shop.html

---
Has this ezine been helpful to you?
All donations are much appreciated!
---

PERMISSION TO REPRINT: Please feel free to reprint any items from "RealityShifters News" in your own print or electronic newsletter, provided you also include the following paragraph:

Reprinted from RealityShifters News, a free ezine featuring
articles, stories, book reviews and websites for shifting
reality. Subscribe at http://realityshifters.com/ and receive
free gifts when you recommend this web site to your friends.
---
Would you like to share a reality shift story?
Send it to Cynthia at cynthia@realityshifters.com

Cynthia Sue Larson
P.O. Box 7393
Berkeley, CA 94707-7393


---
Thank you for sharing this message with a friend!
When forwarding this message, please remove the opt-out link at the very end,
so your subscription is not inadvertently cancelled.

To subscribe to the RealityShifters News and see all previous issues, visit:
http://realityshifters.com/pages/news.html


---
Please add realityshifters.com & RealityShifters@lb.bcentral.com to your "Friends" list if you are with AOL, Earthlink.net, or use a Spam Blocking program or service, to receive the newsletter.


---
This web site © copyright 1999 - 2006 by Cynthia Sue Larson
All Rights Reserved
Privacy Statement