RealityShifters News - February 2003
Create Your Best Life
Embody Compassion

Cynthia Sue Larson

"It is impossible to legalize compassion,
yet that is what is needed most."
~ Christopher Reeve


Few things are as straightforward as compassion. When compassion is present, the world feels like a wonderful place, full of love, peace and joy. People look at one another with genuine interest, and truly care about one another. Conversely, when compassion is absent, the world feels cruel, insensitive, arbitrary and pointless. Interestingly, research has shown this perceptual assessment to make a big difference not only for humans, but for other living things as well.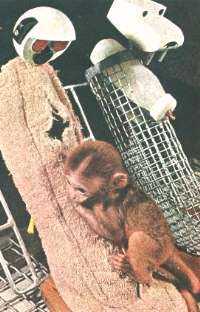 baby rhesus monkey nurses on wire frame artificial mother, but prefers to rest on furry surrogate

American psychologist H.F. Harlow's maternal deprivation studies with baby rhesus monkeys in 1962 showed that infant monkeys who grew up with artificial mothers made of wire-frames, that were sometimes covered in cloth, exhibited bizarre behavior later in life. These infant monkeys were denied the loving embraces, caring looks and healing touch of real mothers, and spent many of their childhood hours looking forlorn and scared. When these monkeys grew up, they were abusive or indifferent to their own babies, and excessively aggressive to other monkeys. Harlow's famous studies showed that even young monkeys depend on someone being there to provide compassion to them on a regular basis.

When you embody compassion, you undertake an on-going process, in which you consider every action for its effects on others. If every living thing has some form of consciousness (and there is reasonable evidence to suggest this is true), how would you live your life differently today? As soon as something comes to mind that you can easily do to more fully embody compassion in your life, consider making that change today. When you do, you will be helping to make this world a better place for us all.

Cynthia Sue Larson


---
In This Issue:

(1) Upcoming Events
(2) Intriguing Articles
(3) Your Reality Shift Stories
(4) Reality Shifting Q & A
(5) Reality Shifters Award Winner
(6) Books That Shift Your Reality
(7) Join in the Discussion
(8) Noteworthy Web Sites & Ezines

---


(1) Upcoming Events

Conscious Living Expo
Los Angeles, California
Saturday, February 15, 2003, 8-9 pm
Enhance Your Aura Talk
http://www.consciouslivingexpo.com/

San Jose Civic Auditorium
San Jose, California
3/1/03 2:00 PM
Enhance Your Aura Talk
http://www.psychicfairs.net/

CONTACT Talk Radio Show
Listen LIVE online!
April 2, 2003 10:00 - 11:00 am PST
http://contactradio.info/

Stonehouse Bookstore
Kirkland, Washington
4/5/03 2-3:30 pm
Enhance Your Aura Talk
http://stonehouse.org/

Stonehouse Bookstore
Kirkland, Washington
4/6/03 10 am - 5 pm
Enhance Your Aura Workshop
http://stonehouse.org/

East West Bookshop of Seattle
Seattle, Washington
4/7/03 7-8:30 pm
Enhance Your Aura Talk
http://www.eastwestbookshop.com/


Schedule an Event with Cynthia!
If your organization or association is interested in having me give a talk or seminar on the subject of how to transform from an "accidental manifestor" into a conscious creator, and how to get the most of the top ten things your aura does for you, please let me know! Email me at: cynthia@realityshifters.com My schedule of events for 2003 is posted online at: http://realityshifters.com/pages/events.html



---


(2) Intriguing Articles

SYNCHRONICITY: Consciousness Plays with the Physical World
by Cynthia Sue Larson
Discover how synchronicity affects your daily life.
http://realityshifters.com/pages/articles/synchronicity.html

Learn How to be Lucky
BBC News
Learn Dr. Richard Wiseman's four principles of luck: expect good fortune; create, notice and act on opportunities; listen to gut feelings & act on hunches; and turn bad luck around by looking at what can be done about problems.
http://news.bbc.co.uk/1/hi/health/2622567.stm



---

(3) Your Reality Shift Stories

MY FLU VANISHED
Julia
Evanston, Illinois

I recently discovered Cynthia Sue Larson's "Reality Shifting" concept. As a scientist with an interest time perception, I have quickly become enthralled with it. When I was the third person in my family to get the stomach flu a few weeks ago, I thought I'd try it out.

This was a horrible flu -- I had seen my husband and son go through 24 hours of, well, you know -- leakage from all body parts that can leak. For me, I used a Reality Shift in the first half-hour of the ordeal I "knew" would last all day. I was feverish, sitting on the toilet, about to pass out. I remember staring at a picture and noticing it slowly disappearing. (This was not a Reality Shift, this was because I was losing water very quickly.) Before I passed out, I remembered Cynthia's site, and I stared at the center of the picture and said to myself "Now I will see the whole picture; now I will have no fever; now I will be re-energized; and now all symptoms will stop."

I remember thinking, "If Reality Shifts are real, then one can happen right now. I dare you, flu, to go away." All you veteran Reality Shifters know what happened then -- I didn't pass out, my vision cleared, my fever dropped, I started to feel fine, and all my symptoms stopped. Much to the chagrin of my husband (and my mother, step-mother, and family friends who all had the 24-hour flu), I used a Reality Shift to transform the 24-hour flu into a half-hour flu. Not bad!


-=-=-=-=-=-=-=-=-=-=-=-=-=-=-=-=-=-=-=-=-=-=-=-=-=-=-=-=-=-=-=-=

Thank You for Sharing this Message with a Friend!

Would You Like to be a Subscriber?

You can view all past issues & subscribe by visiting:

http://realityshifters.com/pages/news.html

-=-=-=-=-=-=-=-=-=-=-=-=-=-=-=-=-=-=-=-=-=-=-=-=-=-=-=-=-=-=-=-=


TIME STOPPED
Evelyn
San Juan, Puerto Rico

Last week I was taking my morning walk in the lineal park. This lineal park is a long narrow bridge that runs over a lagoon. I started my walk as I usually begin my walks, with a lot of stuff in my mind. Then I saw large iguanas on the mangrove branches and on top of a cement structure enjoying the sun rays, and heard and saw the small ducks, with their black feathers and red beaks. I saw herons, and fish jumping in the water, and I felt the breeze... and I felt so grateful to nature and to the universe for my health, my life, and my country's climate (it's always some kind of eternal spring here). I began to feel charged with some type of soft energy.

At some point, I checked my watch, and saw that it was 8:05. Suddenly, I noticed I was passing through a stretch that I swear I've never seen before. I was intrigued, and marveled how this new section could be there, since I go there every day! This new section had mangrove trees that crossed over the lineal park and went right into the water on the other side, forming a sort of "mangroves dome" stretch. It was beautiful, and I was enraptured!

I continued to wonder, "How come I've never seen this before?" It just didn't seem possible that I would not have noticed it. When the "dome of mangroves" stretch of my walk ended, I checked my watch again. My watch showed it was 8:05! No time at all had passed. I thought perhaps my watch had stopped. But no, later on I checked it again, and it was 8:15. So, I just figured out that time stopped and I was in another focus. In fact, I even felt some sort of "snap" as if I was looking through a kid's "View Master" toy, when the "dome" ended.

On my way back, I walked very slowly over the section where I had the experience and looked at every mangrove, to see if there was something different. But no, it was the same as always, so I can't explain why I saw it so differently when time stopped. May all you conscious creators have a happy, full of shifts year, and may wisdom prevail in world leaders.


THINGS THAT GO AWOL IN THE NIGHT
Tomas
Haninge, Sweden

I have had a few reality-shift experiences..or so it seems. The first one I remember is when I was working as a night watchman in central Stockholm around 1980. One evening, as I was about to start the night shift, I was down in the basement locker room, changing into my overalls. When I finished changing, I noticed my torchlight was missing. I looked everywhere for it: in the little cubicle where my locker was located, on the floor, under the plastic chair in the corner. I searched everywhere, in vain. Then I stood up, puzzled, and suddenly I saw it. It was located in plain view under the chair where I had just looked only a few seconds before. I couldn't have missed it, itęs simply not possible. And it was not that dark. I must have put it on the chair, and then it fell down onto the floor -- but where did it go when I couldn't find it?

Another incident occurred a few years later in another locker room, when I was working in a psychiatric hospital. (No, I had not been committed!) I dropped the padlock to my locker, and heard one THUMP when it hit the floor and then -- silence. I looked down, and couldn't see it. I looked on the floor, I looked at the bottom of the locker, I looked in my shoes (!), I emptied the locker, I looked behind the locker, I searched the entire locker room -- no padlock. This time, the elusive object stayed hidden.

When I was growing up, we had saying in my family to explain stuff like this that my mom and I still use: "It's the borrowers..."


AMBER RING STONE REAPPEARS
Mary Ellen
East Meadow, Long Island, New York

In mid-January, my husband Tom bought me a lovely amber ring at a gem show. This ring matched nicely with my amber earrings, and necklace. I proudly wore it every day, as I liked its "vibes;" it felt like it was "hugging" me!

Soon after I got the ring, I went shopping at a nearby Wal-Mart. When I returned home, I was shocked to discover that the amber stone had disappeared from its ring frame! I became hysterical, and Tom and I frantically searched for it everywhere in the house as well as inside Wal-mart and in the Wal-Mart parking lot, to no avail. It seemed to be gone for good. Because that day was my late Grandmother's 105th birthday, January 19th, I honored her memory by lighting a candle in front of her picture.

The next morning, on January 20th, I sat down at the foot of my bed to put on my necklace, and something on the floor caught my eye! I bent down for a closer look, and saw my missing amber stone! I practically screamed my head off with delight, wondering how the stone got there in the first place. I had thoroughly searched that floor area many times, and that stone had definitely not been there! Tom was just as baffled as I was. I believe that my dear beloved Grandmother put that stone there to show her love for me, as she did a couple of years ago when I lost her antique ring that mysteriously re-appeared in my washing machine. Way to go, Grandma! Thanks for making miracles happen!



---


(4) Reality Shifters Q & A


Q: Hello Cynthia - I just found your site "by chance" and am passing on the information to various friends. Can you tell me anything about how it all started?

-- Georgina

A: I started the realityshifters site when I noticed things were appearing, disappearing, transforming, and transporting around me. I knew there must be some good explanation for what was going on and I knew I wasn't going crazy, because my friends also experienced what I began calling the "reality shift" phenomenon. When I discovered there was no web site dedicated to reality shifts, I created one. I've read every book on the subject I can find, and talked to hundreds of people about their experiences. The realityshifters web site has the most complete assortment of reality shift stories assembled in one place, and the steadily growing community of people who subscribe to this ezine attests to the fact that this phenomenon is not something that "only happens in California or the Bermuda Triangle." As more of us "come out of the closet" and publicly acknowledge that we've experienced reality shifts, we will find how wide-spread this phenomena truly is. I was inspired to write my book, The Aura Advantage: Enhance Your Aura & Improve Your Life, to better explain how our thoughts and feelings change the physical world.

-- Cynthia


---


(5) Reality Shifters Award Winner

I am proud to announce this month's wonderful winner of the Reality Shifting Award, for recognition of web sites which demonstrate consistent excellence in content and design, while helping people shift their reality in a positive direction:

Would you like to study "angelology"? Here's an excellent place to learn all about angels, and learn how they can uplift you and brighten your life:
http://kimbasangels.com/


---


(6) Books that Shift Your Reality

Here are some books that will give you nourishing food for thought as they change your life for the better! Every time you click through these links before making purchases at Amazon.com, you help offset the costs of the realityshifters web site and ezine! This is true even if you don't buy anything listed on the realityshifters site. You can see some of my favorite books at:
http://realityshifters.com/pages/reviews.html



Emily's Art
by Peter Catalanotto

Gorgeous Watercolor Picturebook about Feelings
http://www.amazon.com/exec/obidos/ASIN/068983831X/realityshifts

EMILY'S ART is the story about a first-grade girl who loves to paint. There is a colorful aura of joy around Emily as she paints with her heart. When Emily's class participates in a school-wide art contest, Emily enters a picture of her dog, Thor, with great big ears, "Because Thor hears everything." Emily is heart-broken to see her picture of Thor passed over because the judge hates dogs. Emily's friend, Kelly, and her teacher, Ms. Fair, show Emily how much they care about her, and the story ends with a class party to celebrate all the children's beautiful pictures. What makes this picture book so special is the way every illustration of Emily shows how she feels in body posture, facial expression, and energy field. When Emily is happy, soft colors of light shine around her head and shoulders. When Emily is sad, her head droops forward and she becomes transparent as her aura disappears. Every picture of her aura is delightfully different -- my favorite is the one where Emily shows her friend, Kelly, how to draw a dinosaur and lots of bright colors surround her head, back, and arm! This is a gorgeous watercolor picture book that shows how feelings look in the human energy field. I give it my highest recommendation!




The 10 Things You Need To Know To Attract the Mate of Your Dreams
by Heidi Ratner-Connolly & Randy Connolly

Ten Tips for Finding Your True Love
http://www.amazon.com/exec/obidos/ASIN/0972240039/realityshifts

Close your eyes and imagine for a moment how your true love looks, feels, sounds, and moves. Notice as many details as you can, from eye color to how it feels when you hug. Now ask yourself, "Am I ready to see my perfect mate in physical form?" If your answer is "Yes," then this book is the one for you! Husband-wife authors Heidi Ratner-Connolly and Randy Connolly share the metaphysical technology that made their vision of love a reality in their book, "Attract the Mate of Your Dreams." They describe the amazing true story of how they found one another, and provide ten practical steps that help you align your conscious and unconscious mind with energies of the universe to bring you together with your ideal love. "Attract the Mate of Your Dreams" is ideal for anyone who feels they have been bypassed by love, or knows a friend who is single and lonely. The ten simple steps in this book will be familiar to those who study manifestation and conscious creation, yet they are assembled in a fresh new way that provides the reader with powerful reminders of how to change one's thoughts and focus one's feelings for best effect.



THE FAIRY RING
by Anna Franklin & Paul Mason

Ask the Fairies for Personal Guidance & Advice
http://www.amazon.com/exec/obidos/ASIN/0738702749/realityshifts

THE FAIRY RING consists of a gorgeous book and deck of divination cards divided into four seasonal suits of Spring, Summer, Autumn, & Winter. The beautiful cards give one an immediate sense of the wonder of entering the fairy realm, and are truly stunning to behold. THE FAIRY RING book provides enchanting stories that explain divinatory messages for every card reading. I particularly enjoyed the story about Queen Oonaugh, where she helps Fin MacCool avoid a fight with a giant called Cucullin by recommending Fin pretend to be his own baby when the giant shows up at his home. A court of thirteen fairies represents each season (with a Lady, Knave, King, Queen, and Ace), and there are eight fairy festival cards (Imbolc, Ostara, Beltane, Midsummer, Lughnasa, Herfest, Samhain, and Yule). It's easy to sense at a glance which fairies are good to work with, and THE FAIRY RING book provides advice regarding how best to obtain help from helpful fairies (such as Habetrot, Asrai, the Sea Mither, Brownies and Leprechauns), and which fairies are best avoided because they are known for being treacherous, illusory, or inaccessible (such as the Changeling, Will o' the Wisp, or Jenny Greenteeth). For those who need help asking fairies for guidance, nine different divinatory spreads are provided, along with a sample reading for the Fairy Market spread. If you feel an affinity for fairies and are willing to read through the stories and divinatory meanings for each card, this deck will quickly become an invaluable aid.



UNFOLDING:
The Perpetual Science of Your Soul's Work
by Julia Mossbridge

Finding Your Best Life Path
http://www.amazon.com/exec/obidos/ASIN/1577311930/realityshifts

If you've ever thought, "Some day, I'll know what I want to be when I grow up," and you're beginning to wonder when that day will ever arrive, UNFOLDING is the book for you! Written by a spiritual scientist who believes in the wisdom of consciously working in collaboration with God, this excellent book provides you with tools you can use right now to find your best possible life path. When you learn the art of unfolding, you will remember how to be who you are, discover your purpose, develop your partnership with God, choose your soul's path, share your soul's gifts with others, and create healing in the world. Julia Mossbridge is an award-winning neuroscientist who was inspired to become a life coach when she felt a need to find a more fulfilling life for herself. UNFOLDING describes the process Mossbridge successfully teaches and uses to do the inner work required for living an outwardly successful life. Each section contains wonderful exercises that help you see immediate results. UNFOLDING is a friendly book that stimulates my imagination and delights my intellect, and I love it so much that I've carried it with me everywhere I go. I especially like the sections on "Creating Goal Communities," "Recognizing Splintered Paths," and the "Fear-Facing Practice." Another unexpected gem is Mossbridge's amazingly clear explanation of how to integrate the seemingly opposite and unreconcilable philosophies of "Let Go, Let God," and "100 Percent Responsibility" when you create your partnership with God. For that section alone, this book is worth the purchase price!


---


(6) Join in the Discussion

Do you have questions you'd like to ask, or reality shifting stories you'd like to share? Have you read good books, seen intriguing movies, or found a web site that relates to reality shifts? Contemplate the big questions and make new friends in the realityshifters discussion group at: http://groups.yahoo.com/group/RealityShifters
---


(7) Noteworthy Web Sites & Ezines


8TH ANNUAL UNEXPLAINED MYSTERIES CONFERENCE
The Corn Exchange, Dorchester, Dorset, England 6th of April, 2003
http://universityoflife.users2.50megs.com/page4.htm

BUILD YOUR CONFIDENCE
Confidenceworld.com offers FREE Confidence building exercises, tools and resources for a confident new you.
http://www.confidenceworld.com/

CHRISTOPHER & DANA REEVE PARALYSIS RESOURCE CENTER
Paralysis need not be permanent! Christopher Reeve recently showed the world that he has regained modest movement and sensation.
http://www.paralysis.org/

FREE TAROT READING
Alison Day's site offers free online tarot card readings, card meanings, a tarot course, articles and a discussion forum
http://www.free-tarot-reading.net



---


3,400 RealityShifters News Subscribers live in 58 different countries around the world -- with the majority in the United States of America, Canada, the United Kingdom, Australia, Africa, New Zealand, India, the Netherlands, Mexico, Italy, Sweden, Germany, Brazil, Belgium, Singapore, South Africa, the Philippines, Japan, Norway, Ireland, and Israel.



---

PERMISSION TO REPRINT: Please feel free to reprint any items from "RealityShifters News" in your own print or electronic newsletter, provided you also include the following paragraph:

Reprinted from RealityShifters News, a free ezine featuring
articles, stories, book reviews and websites for shifting
reality. Subscribe at http://realityshifters.com/ and receive
free gifts when you recommend this web site to your friends.
---
Would you like to share a reality shift story?
Send it to Cynthia at cynthia@realityshifters.com

---
Thank you for sharing this message with a friend!

To subscribe to the RealityShifters News and see all previous issues, visit:
http://realityshifters.com/pages/news.html


---
This web site © copyright 2000 - 2003 by Cynthia Sue Larson
All Rights Reserved
Privacy Statement