Please forward this ezine to anyone who'd like to create their best life.

RealityShifters News - February 2007
Create Your Best Life!
How Good Can it Get?


Believe in Yourself

"Once you make a decision, the universe conspires to make it happen."
-- Ralph Waldo Emerson

One of the hardest things for most people to do when things seem to be going wrong is to keep a positive state of mind and perspective. I consider myself to be a generally fortunate individual, so when I was driving down the freeway the other day to pick my daughter up after school, I was surprised and alarmed to note that how no matter how hard I pressed on the gas pedal, my car was rapidly decelerating... to the point that I had to coast over to the side of the road. After my car was towed to a garage and examined by mechanics, I discovered that the transmission in my car needed repair costing thousands of dollars. This news led me to doubt my ablity to earn as much as it looked like I would be spending this month. As I mentally calculated this situation, feeling a bit discouraged, I asked the universe to show me what was going on... and what it was that I needed to learn. I immediately got a mental picture of how my doubt of earning as much as I was about to spend was essentially me doubting myself, and that all I really every need to know is that when I believe in myself, anything is possible.

This revelation gave me renewed hope, as I realized that having faith in myself is a decision I make every day, and that every day this month I would have faith in my ability to earn more than I spend. Since this decision seemed to imply I would need at least twice as much income this month, I decided that this is what would happen... more people would contact me for consultations, and more money would flow to me from other sources as well. Sure enough, twice as many people immediately began contacting me for consultations as is usually the case, and money from other sources also began flowing in.

When we believe in ourselves, we experience a self-fulfilling prophecy in which all that we consider to be true becomes true. If you are thinking, "That may work just great for people who can believe in themselves, but that's not me," know that you can become a person who believes in yourself. You can exercise your self-belief ability in many ways. Here are some suggestions to get you started:

Meditate and/or pray every day,
Ask five friends to write down and share with you what they love most about you,
Say words of appreciation and praise aloud to yourself every day,
Give yourself a hug every night when you go to bed, and
Say aloud to yourself three things you are most proud of that you have accomplished so far.
Wishing you all the best that life and love have to offer,
Cynthia Sue Larson
email Cynthia at cynthia@realityshifters.com
---
Books & CD by Cynthia Sue Larson:

"Speculations, theories and experiments from quantum science have now been entered into the debate which suggest that our world is far more mystical, complex, interactive and even humorous than the sterile, mechanistic dogma of classical scientific thought. Read, enjoy, be amazed, ponder REALITY SHIFTS"
-- Edgar Mitchell, Sc.D., Founder, Institute of Noetic Sciences & Apollo Astronaut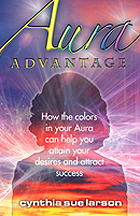 Aura Advantage is "In a chaotic and unpredictable world, Aura Advantage offers its readers grounding, inspiration, and hope."
-- Stanley Krippner

Aura eBook!

This empowering booklet provides tips for making every day the best it can be by harnessing the power of your aura.

The Aura Healing Meditations CD will help you improve your aura... and your life... in every way.

Karen Kimball "... combines the mystery of a Nancy Drew with the metaphysical daring-do of a Harry Potter book"
-- Alijandra
Order autographed books & CDs
in the RealityShifters Shop
including the newly released


Aura Advantage book!



---
In This Issue:

(1) Spiritual Life Coaching
(2) Upcoming Events
(3) Intriguing Articles & Interviews
(4) Your Reality Shift Stories
(5) Reality Shifting Q & A
(6) Reality Shifters Award Winner
(7) Reviews that Shift Your Reality
(8) Join in the Discussion
(9) Noteworthy Web Sites & Ezines

---
(1) Spiritual Life Coaching

Feeling stuck? Want help facing a challenging relationship? Need clarity making an important decision? Could you use some help shifting your reality? Are you curious to know your divine gifts? Are you ready to feel energized? If you answered yes to any of these questions, you can benefit from Spiritual Life Coaching with Cynthia! Contact Cynthia at cynthia@realityshifters.com to set up a life-enhancing telephone consultation today. http://realityshifters.com/pages/consultation.html

"I just wanted to say hello and tell you how much you have helped me. I called you about six weeks ago. You helped me regain myself, to become grounded. I was in a state of fear and panic, a real crisis, that had been ongoing for several weeks, and you helped me to reconnect to myself and to hear my spiritual guides. Thank you!" -- Traude

---

(2) You're Invited to Fabulous Upcoming Events

Just Energy Radio Show
16 March 2007 5-7 pm PST
Join host Dr Rita Louise as she interviews Cynthia Sue Larson for the Just Energy Radio show on the topics of auras and reality shifts. This live interview features an interactive chatroom, where listeners can hear the show, interact with one another, and ask questions. The toll-free number to call during the show with questions and requests for intuitive readings is 888-863-2722.
http://www.justenergyradio.com


---

Schedule an Event with Cynthia!
Would you like to invite your friends to attend an aura advantage workshop in your home? If you live in Northern California and are interested in planning such an event, email Cynthia for further information at: cynthia@realityshifters.com
Cynthia's schedule of events for this year is posted online at: http://realityshifters.com/pages/events.html


---

(3) Intriguing Articles & Interviews

Mind-Energy.net Launches a Series of Mind Power Experiments
13 February 2007
A series of combined online and offline experiments designed to verify the existence of human mind's ability to perceive information over distance and to influence events over distance are being launched at Mind-Energy.net website. The faculties of the human mind, such as remote viewing, clairvoyance, telepathy, commonly referred asreferred as 'psi' in the science of parapsychology, are still considered paranormal by the mainstream and require further testing to prove or disprove their existence. The everlasting question whether people possess the sixths sense will be put to test once again in a new series of unique experiments on the 'Psi Experiments' website at http://psi.mind-energy.net. In addition, the experiments will try to discern whether there's a difference between the results of the two genders and is there any connection between subjective level of competence (level of belief) and actual results. The results and the statistics will be published on the site after each experiment ends.
http://psi.mind-energy.net

Can This Black Box See Into the Future?
11 February 2007
The machine apparently sensed the September 11 attacks on the World Trade Centre four hours before they happened - but in the fevered mood of conspiracy theories of the time, the claims were swiftly knocked back by sceptics. But last December, it also appeared to forewarn of the Asian tsunami just before the deep sea earthquake that precipitated the epic tragedy. Now, even the doubters are acknowledging that here is a small box with apparently inexplicable powers.
http://www.redorbit.com/news/display/?id=126649

A Princeton Lab on ESP Plans to Close Its Doors
New York Times
by Benedict Carey
10 February 2007
PRINCETON, N.J., Feb. 6 Over almost three decades, a small laboratory at Princeton University managed to embarrass university administrators, outrage Nobel laureates, entice the support of philanthropists and make headlines around the world with its efforts to prove that thoughts can alter the course of events. But at the end of the month, the Princeton Engineering Anomalies Research laboratory, or PEAR, will close, not because of controversy but because, its founder says, it is time.
http://www.nytimes.com/2007/02/10/science/10princeton.html?_r=1&ref=todayspaper&oref=slogin



Reality Shifting Films
What do movies and TV shows like The Jacket, The Secret, What the Bleep Do We Know, Just Like Heaven, Indigo, Tru Calling, The Matrix, Frequency, Wonderfalls, Dark City, Sliders, The Lathe of Heaven, Sliding Doors and Passion of Mind have in common? These films feature the reality shift phenomenon in their plots. I find it especially refreshing to see films that describe reality shifts close to the way I've experienced them myself, and I am grateful that reality shifts are being featured more often than ever in film!
http://realityshifters.com/pages/films.html


---

(4) Your Reality Shift Stories

Smiley Face Inexplicably Changed
BeLynn
Indiana

I have had a few very unusual experences which I suppose could be explained by reality shifting. Once I had a presentation to give in a graduate school class which was important to me, and I wanted to attend well to every detail. I got to class about 40 minutes before anyone else so I could set the room up the way I wanted and write some information on the chalk board.  The last thing I drew on the board was a big smiling face. An odd, uncomfortable feeling passed through me as I made the left chalk circle eye. I paused to reflect on the unusual feeling and act. As I looked at that little chalk eye I realized I wasn't content with it, so I erased it and drew it again. The very strange and strong feeling I had while drawing the left eye was so out of the blue. That feeling caused me to stop, look close at the left eye, erase it, and redraw it. I'd never had a feeling like it before or since. Up until then everything had been very ordinary; my mind was on preparing for my presentation. The smiling face was not planned or part of the presentation, just a last moment addition. Then, with great effort, I shoved a large and heavy desk over to the side and up against the chalk board, right in front of the smiling face. Content that I had every detail in order to give my presentation I decided to get my self something to drink. This was a night class in a basement and the building was near empty. There were no carpets on the floor, so sounds of someone walking down the halls were hard to miss. The drink machine was about 20 feet down the hall, still within earshot of anyone entering or leaving the presentation room. I got the exact change I needed and left my purse, because I knew I'd only be gone from the room for a few seconds. I never heard or saw anyone come or go during the time I left the room. I walked back in the empty room, and instantly my attention went to the big smiling face on the chalk board. The left eye had about 5 big lines drawn through it. I still get chills when I think of it. What? How? Why?! How could someone go unheard and unseen and slip in very quickly to go over and painstakingly moves a heavy desk out and back just to put a few lines through a chalk eye? It makes NO sense. A shift in time perhaps? I was paying close attention to details.


-=-=-=-=-=-=-=-=-=-=-=-=-=-=-=-=-=-=-=-=-=-=-=-=-=-=-=-=-=-=-=-=

Thank You for Sharing this Message with a Friend!

Would You Like to be a Subscriber?

You can view all past issues & subscribe by visiting:

http://realityshifters.com/pages/news.html

-=-=-=-=-=-=-=-=-=-=-=-=-=-=-=-=-=-=-=-=-=-=-=-=-=-=-=-=-=-=-=-=

Web Site Synchronicity
Susan
New South Wales, Australia

I have a very small story of synchroninity which happended just when I thought about contacting you this month. I was scrolling through archive books and shows on a website (www.lauralee.com) which features spiritual and science subjects and I was attracted to a featured book about William Tiller and I thought I might like to visit the website - Next I clicked on to your site and looked up the latest news - your January 2007 newsletter - and the Reality Shifters award for website content and design was for William Tiller website.



---

(5) Reality Shifters Q & A


Q: Hey! I came across your site after finding a review you did on the book The Intention Experiment, and wondered if you might tell me a little more about how we make our reality.
-- James

A: Dear James,
I've got an ebook called Reality Shifts: When Consciousness Changes the Physical World that delves into how we make our reality... and you can view an excerpt of it if you visit the "shop" page of my realityshifters web site. The subject is simply too vast to adequately address briefly in an email... but once you've seen the excerpt and viewed a bit of the ebook, perhaps you could ask a more specific question that I could address more specifically. Yes, yes, yes.... what we put our energy into is what we tend to see more of, and when we gain clarity as to how our subconscious can get better aligned with our conscious desires, be can become lucid livers who consciously create lives we can most fully enjoy. That's the heart and soul of the concept behind "Reality Shifts," and the essence of how I help people learn to start asking, "How good can it get?" while feeling a sense of connection, wonder and joy... seeing the amazing miraculous shifts in reality all around us every day.
lots of love,
-- Cynthia


---

(6) Reality Shifters Award Winner

I am proud to announce this month's winner of the Reality Shifting Award, for recognition of demonstrating consistent excellence in web site content and design, while helping people shift their reality in a positive direction:

The Intention Experiment
http://theintentionexperiment.com/
THE INTENTION EXPERIMENT, designed by author Lynne McTaggart and the most eminent scientists in consciousness research, is a series of web-based experiments testing an outrageous premise: that human thoughts and intentions are an actual physical something with the astonishing power to change our world. A sizeable body of scientific research has shown that directed thoughts are capable of affecting everything from the simplest machines to the most complex living beings. THE INTENTION EXPERIMENT is going to test whether this effect gets stronger, the more people think the same thought at the same time. Thousands of people from around the world are going to participate in what will be the largest ongoing mind-over-matter study in history. This is not about sending intentions to make a million dollars. The targets are philanthropic: healing wounds, helping children with attention deficit or patients with Alzheimer's, counteracting pollution and global warming.


---

(7) Reviews that Shift Your Reality

Here is something that will give you nourishing food for thought! Every time you click through these links before making purchases at Amazon.com, you help offset the costs of the realityshifters web site and ezine! This is true even if you don't buy anything listed on the realityshifters site. You can see some of my favorite books at: http://realityshifters.com/pages/reviews.html



Ecstatic Relations
A Memoir of Love
by Carolyn North

Heartfelt Pages from a Seeker's Lifelong Journey to Connect with the Divine
http://amazon.com/exec/obidos/ASIN/1591810523/realityshifts

There's something intensely personal about Carolyn North's memoir, ECSTATIC RELATIONS, that goes far beyond the simple fact that it is, essentially, a selective autobiography. There is a searing, intense range of emotions which makes this book a joy to read, from the depths of sorrow, humiliation and doubt to the heights of divine ecstatic love, and every noteworthy feeling between. North has a gift for sharing a personal tale in such a way that it becomes one's own, and a talent for illustrating spiritual truths and wisdom from collective consciousness that vibrate with a resonance typically reserved for spiritual teachings. Each chapter focuses on one particular relationship in North's life, and explores how that particular relationship opened her heart and soul to a fuller experience of life on every level. From a Jewish childhood in Brooklyn, to youthful travels and education in Europe, to being a wife and parent in California, North's life resonates with a rich, deep tone of fullness, and serves as an inspiration to us all as to the level of meaning our own lives might attain. I highly recommend Ecstatic Relations to anyone interested in contemplating the meaning of the relationships in their lives, as well as the meaning of their relationship to All That Is.



---

(8) Join in the Discussion

Do you have questions you'd like to ask, or reality shifting stories you'd like to share? Have you read good books, seen intriguing movies, or found a web site that relates to reality shifts? Get the inside scoop on reality shifts, contemplate the big questions and make new friends in the realityshifters discussion group at:
http://groups.yahoo.com/group/RealityShifters
---

(9) Noteworthy Web Sites


CALL WAVE
CallWave Fax delivers faxes directly to your email without any need for a fax machine or second phone line. Get CallWave Fax FREE for the first month, then just $7.95 per month after that.
http://www.anrdoezrs.net/click-1994406-10448131



KA GOLD JEWELRY
Find the perfect gifts for people who have everything! Ka Gold Jewelry also has fascinating free articles about spiritual symbols and sacred geometry which explain the advantages of wearing jewelry designed according to these ancient principles.
http://www.ka-gold-jewelry.com/index.php?ref=42



SECRETS TO ATTRACTING SUCCESS
Discover a practical method for attracting all the money, power, and every kind of success you desire. This system is down-to-Earth and easy to understand and implement immediately. FREE instant access!
http://thepowerfulcreator.com/cgi-bin/uam/x.cgi?a=r&id=1&aid=2&p=2



SPIRITUAL CINEMA CIRCLE Join the Spiritual Cinema Circle and receive new, thought-provoking spiritually rich films every month... great conversation starters when watching with friends.
http://www.spiritualcinemacircle.com/?af=17252



TAROT READINGS -- FREE!
Free tarot card readings can help guide you through your troubled emotions and clouded thoughts.
http://www.free-tarot-reading.net/index.php?affID=1006



TRANSFORMATIONAL BOOK CIRCLE
Louise Hay and Barbara de Angelis have changed the lives of millions of people... and these remarkable women credit books with changing their lives. Join the Transformational Book Circle and you will receive one book and one audio CD each month:
http://www.transformationalbookcircle.com/?af=17252



WILD DIVINE
Now you can try a free demo of the most amazing computer meditation biofeedback system ever. I feel like I'm in Shangri La in Wild Divine, where I can build stairways with my breath, meditate to open doors, and juggle balls with laughter. It's awesome!
http://www.myaffiliateprogram.com/u/wdivine/b.asp?id=1978&img=120x60.gif


---

4,000 RealityShifters News Subscribers live in 81 different countries around the world -- with the majority in the United States of America, Canada, the United Kingdom, Australia, Africa, New Zealand, India, the Netherlands, Malaysia, Mexico, Italy, Sweden, Germany, Brazil, Belgium, Singapore, South Africa, the Philippines, Japan, Norway, Ireland, Denmark, Spain and Israel.


---
Your One Stop Reality Shift Shop

RealityShifters has a secure "Shopping Cart"
to make it easy to view and place your order.
Get autographed copies of AURA ADVANTAGE & KAREN KIMBALL,
the AURA HEALING MEDITATIONS CD and more at:
http://realityshifters.com/pages/shop.html

---
Has this ezine been helpful to you?
All donations are much appreciated!
---

PERMISSION TO REPRINT: Please feel free to reprint any items from "RealityShifters News" in your own print or electronic newsletter, provided you also include the following paragraph:

Reprinted from RealityShifters News, a free ezine featuring
articles, stories, book reviews and websites for shifting
reality. Subscribe at http://realityshifters.com/ and receive
free gifts when you recommend this web site to your friends.
---
Would you like to share a reality shift story?
Send it to Cynthia at cynthia@realityshifters.com

Cynthia Sue Larson
P.O. Box 7393
Berkeley, CA 94707-7393


---
Thank you for sharing this message with a friend!
When forwarding this message, please remove the opt-out link at the very end,
so your subscription is not inadvertently cancelled.

To subscribe to the RealityShifters News and see all previous issues, visit:
http://realityshifters.com/pages/news.html


---
Please add realityshifters.com & RealityShifters@lb.bcentral.com to your "Friends" list if you are with AOL, Earthlink.net, or use a Spam Blocking program or service, to receive the newsletter.


---
This web site © copyright 1999 - 2007 by Cynthia Sue Larson
All Rights Reserved
Privacy Statement