Please forward this ezine to anyone who'd like to create their best life.

RealityShifters News - June 2007
How Good Can it Get?


Rise Above Hardships

"An adventure is only an inconvenience rightly considered. An inconvenience is only an adventure wrongly considered."
-- G.K. Chesterton

One of my key personality traits is a tendency toward optimism -- holding a vision of how good things can be, no matter how apparently depressing or upsetting situations might seem to be. I believe that the ability to consistently find a perspective that indicates how things are improving despite outward appearances is the key to moving forward past present pains and hardships to a brighter future.

Finding meaning in our pain greatly diminishes suffering. Just as mothers can tolerate the pain of giving birth, knowing the good that comes from all the pain, it helps to step back from our problems until we can view the situation as something that fits into a broader context. We can then more easily see how much we've grown, how far we've come, and how we are positioned to be heroes in the world. In this context, each new challenge provides us with the possibility of gaining new courage, new faith, new awareness, and new friends. When we seek the deeper truth behind what pains us, we have the opportunity to gain wisdom we could never have attained otherwise.


This past month, I heard the story of Queen Califia, a legendary Amazon warrior queen associated with the mythical Island of California, after visiting Queen Califia's Magical Circle Garden created in her honor by artist Niki De Saint Phalle. When I synchronistically met Trina Robbins, author of the book, "Califia: Queen of California," I discovered that Califia's story has relevance for us today. Califia was reputed to wear gem studded armor, glittering like the sun. She once took a warship of her finest Amazonian warriors across the ocean to join in a battle where she had heard two great armies were fighting. When Califia arrived in Constantinople to join the battle, she found that her shiny golden shield and gleaming golden armor were brilliant to the eye, yet no match for the superior strength of European weapons. After acknowledging defeat on the battlefield, Califia and her sister were eventually able to return home to the Island of California, vowing to learn from defeat by only fighting future battles to defend their own people. While this story might be viewed by some as a tale of defeat, it is actually a story of victory when viewed from the right perspective.

Reconsidering all the setbacks in your life, you have the power to rise above feelings of fear and suffering and take a stand for what you believe in. Know that you are a winner just for being here today, and that whatever misadventures have been so upsetting in your past can become wonderfully entertaining stories later on, providing you with a chance to discover what a hero you're becoming.



Wishing you all the best that life and love have to offer,
Cynthia Sue Larson
email Cynthia at cynthia@realityshifters.com



---
Books & CD by Cynthia Sue Larson:

"Speculations, theories and experiments from quantum science have now been entered into the debate which suggest that our world is far more mystical, complex, interactive and even humorous than the sterile, mechanistic dogma of classical scientific thought. Read, enjoy, be amazed, ponder REALITY SHIFTS"
-- Edgar Mitchell, Sc.D., Founder, Institute of Noetic Sciences & Apollo Astronaut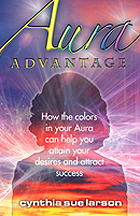 Aura Advantage is "In a chaotic and unpredictable world, Aura Advantage offers its readers grounding, inspiration, and hope."
-- Stanley Krippner

Aura eBook!

This empowering booklet provides tips for making every day the best it can be by harnessing the power of your aura.

The Aura Healing Meditations CD will help you improve your aura... and your life... in every way.

Karen Kimball "... combines the mystery of a Nancy Drew with the metaphysical daring-do of a Harry Potter book"
-- Alijandra
Order autographed books & CDs
in the RealityShifters Shop
including the newly released


Aura Advantage book with full-color aura illustrations!



---
In This Issue:

(1) Spiritual Life Coaching
(2) Upcoming Events
(3) Intriguing Articles & Interviews
(4) Your Reality Shift Stories
(5) Reality Shifting Q&A / Mail Bag
(6) Reality Shifters Award Winner
(7) Reviews that Shift Your Reality
(8) Join in the Discussion
(9) Noteworthy Web Sites & Ezines

---
(1) Spiritual Life Coaching

Feeling stuck? Want help facing a challenging relationship? Need clarity making an important decision? Could you use some help shifting your reality? Are you curious to know your divine gifts? Are you ready to feel energized? If you answered yes to any of these questions, you can benefit from Spiritual Life Coaching with Cynthia! Contact Cynthia at cynthia@realityshifters.com to set up a life-enhancing telephone consultation today. http://realityshifters.com/pages/consultation.html

"If there is one thing I can be grateful for it is that I trusted my intuition and made contact with you - and from that the gift of connecting to myself (and other people) again! And I am very grateful that you are doing this work and following your true self." -- Susan

---

(2) You're Invited to Fabulous Upcoming Events

Cynthia will be traveling for several weeks in June and July. While it is possible that you might see her on her journeys, there are no scheduled stops in the month ahead. Be sure to keep checking the Events page at the realityshifters web site, to stay current regarding what radio, TV, and personal appearances are happening next.


---

(3) Intriguing Articles & Interviews

Positive Thinking: Practice This Stress Management Skill
Mayo Clinic
Mayo Foundation for Medical Education and Research
31 May 2007
Is your glass half-empty or half-full? How you answer this age-old question about positive thinking may reflect your outlook on life, your attitude toward yourself, and whether you're optimistic or pessimistic. In fact, some studies show that these personality traits -- optimism and pessimism -- can affect how well you live and even how long you live. With this in mind, take a refresher course in positive thinking. Learn how to put positive thinking into action. Positive thinking is a key part of an effective stress management strategy.
http://www.mayoclinic.com/health/positive-thinking/SR00009



Reality Shifting Films
What do movies and TV shows like Deja Vu, The Secret, The Jacket, What the Bleep Do We Know, Just Like Heaven, Indigo, Tru Calling, The Matrix, Frequency, Wonderfalls, Dark City, Sliders, The Lathe of Heaven, Sliding Doors and Passion of Mind have in common? These films feature the reality shift phenomenon in their plots. I find it especially refreshing to see films that describe reality shifts close to the way I've experienced them myself, and I am grateful that reality shifts are being featured more often than ever in film!
http://realityshifters.com/pages/films.html


---

(4) Your Reality Shift Stories

The Ultimate Reality Shift
Raul daSilva
Hamden, Connecticut

While the mystical experience that I reported on this site some years ago entitled, "The Whimsical Nature of Space and Time" tossed me, in 1967, on a path of searching for answers it was by far not the first such experience in my life. Indeed, like many others who for various reasons step into the Twilight Zone from time to time my mystical life actually began at age four. The result of this has been a lifetime of searching for answers. This included pursuing spiritual teachers and others reputedly at a higher level of consciousness. This was put to me many years ago when I asked the mystic, Dr. Raynor Johnson, a physicist who wrote the first parallel between quantum physics and Eastern mysticism, (The Imprisoned Splendour) Do we need a guru (teacher) on our journey of seeking? His immediate response was, "Would you attempt to climb Mt. Everest without a Sherpa Guide?" Thus my search eventually brought me to Mother Meera some 16 years ago and a plan to attend her darshan in Germany where she lives. To that end I began saving money and planning. In 1991 I had read her book, "ANSWERS" and requested a photograph of her to keep near my work area. In April of this year (2007) while her photo had served as a light and a source of peace for some reason I was compelled to glance into her eyes. This resulted in my turning to my computer to Google her name, something I had not done in more than a decade. The first thing that came up was an announcement of Mother Meera's coming to the United States for April through the end of May. Immediately, I reserved a seat at her Northeast Darshan as she moved across the country, seeing thousands from California to New York. The result of being in her presence was what I can term, an "induced reality shift" because while unexpected like all the others I have experienced it was not exactly spontaneous. Upon entering the room one hour before Mother Meera was to come in and as hundreds of people slowly filed into the large performing arts hall in Purchase College, New York where she was to hold darshan, I felt a strange peace very much like one from a very old memory when I was quite young at time when my own mother held me in her arms. Whispering, I quietly related the feeling to my companions who had come with me, sitting nearby. Another thing I realized later as I began to analyze my experience is that I stopped thinking quite easily even though I am not a meditator. There was no reason to think and no desire to do so. Within my being the only desire was to be. I wanted to simply exist; period! Time collapsed. When I finally rose to go and sit in the line to await darshan the thoughtless period continued. By the time my turn came and I kneeled with my head down before her and felt her light touch on my head break to turn toward her eyes and look into them I had been free of thought for close to three hours. Not at any time in my life had I ever been able to accomplish that, and it was without the slightest effort to do so. Upon gazing at Mother Meera's eyes I noticed they changed colors from the normal brown to blue to hazel then back to brown. In this moment I felt a powerful moment of great peace unlike anything in memory. The feeling did not fade when I left to return to my seat in the auditorium. On recollection the auditorium ceased to exist or to matter. Even Mother Meera's presence was momentarily forgotten. What came was a feeling of totality, of completeness. I considered this the ultimate reality shift. In fact the reality that I was plunged into defies description.

Note from Cynthia: This is a truly lovely story! I consider your experience to be an acknowledgement of both the powers of meditation and the way our energy fields can profoundly influence one another, so that a noted meditation master can imbue through her presence alone a sense of such deep peace and tranquility.

-=-=-=-=-=-=-=-=-=-=-=-=-=-=-=-=-=-=-=-=-=-=-=-=-=-=-=-=-=-=-=-=

Thank You for Sharing this Message with a Friend!

Would You Like to be a Subscriber?

You can view all past issues & subscribe by visiting:

http://realityshifters.com/pages/news.html

-=-=-=-=-=-=-=-=-=-=-=-=-=-=-=-=-=-=-=-=-=-=-=-=-=-=-=-=-=-=-=-=

Angels Are My Life
Mary
Berkeley, California

Blessings Cynthia. I am wishing to share a little story of one of the many miracles that occurr in my daily life. I had been dating a man for nine months and very often feeling that I should get out of the relationship and that he was not good for me. Because there were definitely some good qualities about him and about our being together, I would find that I had mixed feeling about this. Sometimes I could see us staying together and sometimes could enjoy things for what they were. During one of the weeks when our relationship was much on my mind I found myslf praying a lot about it, and asking for God's intervention in the matter since I was having such a hard time deciding things for myself. During this time I also found that I had develped a bad habit of forgetting to take the parking brake off in my car - and so would be driving down the road with my brake still on. Needless to say this isn't very good for the car, and I was getting very angry with myself because I kept repeatedly forgetting to do this I porbably forgot to remove my brake ten times in two weeks. Anyway, I got this brilliant idea of putting sticker signs in my car reminding me to take my brake off. So one day I hurriedly wrote the signs "BREAK OFF" and put them in several strategic places. A few days later, my boyfriend was riding in my car, noticing the signs, and mentioned that I had spelled the word brake incorrectly... I had spelled it "break off" like something that you would do to a relationship ... like "break off a relationship." Two days later I had gained the strength and clarity to end my relationship with him... that was the last time he has ridden in my car, and the signs fell off on their own very naturally within a few days, and I no longer have the problem of forgetting to take off my parking brake before driving. Never again since. I have the angels to thank for this... they have succeeded in their mission.

Note from Cynthia: It is very good to remember that we are constantly receiving information that can help us straighten out our lives according to what we really most desire... and it is reassuring to see this example that when we need some help getting back on track, it is there.



---

(5) Reality Shifting Q&A / Mail Bag


Dear Cynthia,
Can i really change my past with your book?
-- David

Dear David,
It really is possible to change the past, but there is no guarantee you can do it in such a way that you'll be certain you did it... either with or without my book. The advantage of reading Reality Shifts: When Consciousness Changes the Physical World is that you'll have the complete satisfaction of knowing quite a bit more about what's going on when reality shifts, and how some of these reality shifts feel when they're happening.
lots of love,
-- Cynthia


---

(6) Reality Shifters Award Winner

I am proud to announce this month's winner of the Reality Shifting Award, for recognition of demonstrating consistent excellence in web site content and design, while helping people shift their reality in a positive direction:

Psi Wars: Is the Force Real?
http://www.istheforcereal.com/
Is the Force real? Are we all truly connected? Join our global jedi community, watch an enlightening short movie and have some fun finding out.


---

(7) Reviews that Shift Your Reality

Here is something that will give you nourishing food for thought! Every time you click through these links before making purchases at Amazon.com, you help offset the costs of the realityshifters web site and ezine! This is true even if you don't buy anything listed on the realityshifters site. You can see some of my favorite books at: http://realityshifters.com/pages/reviews.html



Seven Movements One Song
Memoir As Metaphor
by Carolyn North
Tuning in the Vibrations of Life
http://amazon.com/exec/obidos/ASIN/0595398979/realityshifts

The seven short stories in SEVEN MOVEMENTS ONE SONG take the reader on a journey through seven remarkable experiences in one woman's life. Each story stands alone, yet all are inextricably intertwined as they poetically describe how each of the seven chakras -- the primary essential energetic centers of the body -- resonate with one unique set of feelings, sensations, and desires. From root chakra issues of birth, death and survival all the way up to the crown chakra's desire to merge with Source, each story vibrates with a distinct and memorable intensity. SEVEN MOVEMENTS ONE SONG surpassed my expectation of being a well-crafted series of memoirs, as it evoked powerful emotional resonance within me right from the start.


---

(8) Join in the Discussion

Do you have questions you'd like to ask, or reality shifting stories you'd like to share? Have you read good books, seen intriguing movies, or found a web site that relates to reality shifts? Get the inside scoop on reality shifts, contemplate the big questions and make new friends in the realityshifters discussion group at:
http://groups.yahoo.com/group/RealityShifters
---

(9) Noteworthy Web Sites


KA GOLD JEWELRY
Find the perfect gifts for people who have everything! Ka Gold Jewelry also has fascinating free articles about spiritual symbols and sacred geometry which explain the advantages of wearing jewelry designed according to these ancient principles.
http://www.ka-gold-jewelry.com/index.php?ref=42



SECRETS TO ATTRACTING SUCCESS
Discover a practical method for attracting all the money, power, and every kind of success you desire. This system is down-to-Earth and easy to understand and implement immediately. FREE instant access!
http://thepowerfulcreator.com/cgi-bin/uam/x.cgi?a=r&id=1&aid=2&p=2



THE FOUR BUILDING BLOCKS OF SUCCESSFUL AFFIRMATIONS
Jennifer Shepherd's awesome new ebook is grounded in common sense, with liberal dashes of zesty inspiration and lots of practical advice from someone who's 'Been there, done that.' Shepherd, the Lipstick Mystic, describes four basic building blocks of successful affirmations in a way that doesn't require you to "believe" anything. These principles simply ARE, and you can make use of them today to start attracting more of what you do want instead of what you don't. This ebook describes how we are constantly creating based on the vibrations we are sending out through our emotions, intentions, and actions, and helps us to start shifting into experiencing situations that give us happiness instead of sorrow.
http://realshifts.drgnhtm2.hop.clickbank.net/



SPIRITUAL CINEMA CIRCLE Join the Spiritual Cinema Circle and receive new, thought-provoking spiritually rich films every month... great conversation starters when watching with friends.
http://www.spiritualcinemacircle.com/?kbid=1459



TAROT READINGS -- FREE!
Free tarot card readings can help guide you through your troubled emotions and clouded thoughts.
http://www.free-tarot-reading.net/index.php?affID=1006



TRANSFORMATIONAL BOOK CIRCLE
Louise Hay and Barbara de Angelis have changed the lives of millions of people... and these remarkable women credit books with changing their lives. Join the Transformational Book Circle and you will receive one book and one audio CD each month:
http://www.transformationalbookcircle.com/?af=17252



WILD DIVINE
Now you can try a free demo of the most amazing computer meditation biofeedback system ever. I feel like I'm in Shangri La in Wild Divine, where I can build stairways with my breath, meditate to open doors, and juggle balls with laughter. It's awesome!
http://www.myaffiliateprogram.com/u/wdivine/b.asp?id=1978&img=120x60.gif


---

4,100 RealityShifters News Subscribers live in 84 different countries around the world -- with the majority in the United States of America, Canada, the United Kingdom, Australia, Africa, New Zealand, India, the Netherlands, Malaysia, Mexico, Italy, Sweden, Germany, Brazil, Belgium, Singapore, South Africa, the Philippines, Japan, Norway, Ireland, Denmark, Spain, Israel, and Panama.


---
Your One Stop Reality Shift Shop

RealityShifters has a secure "Shopping Cart"
to make it easy to view and place your order.
Get autographed copies of AURA ADVANTAGE & KAREN KIMBALL,
the AURA HEALING MEDITATIONS CD and more at:
http://realityshifters.com/pages/shop.html

---
Has this ezine been helpful to you?
All donations are much appreciated!
---

PERMISSION TO REPRINT: Please feel free to reprint any items from "RealityShifters News" in your own print or electronic newsletter, provided you also include the following paragraph:

Reprinted from RealityShifters News, a free ezine featuring
articles, stories, book reviews and websites for shifting
reality. Subscribe at http://realityshifters.com/ and receive
free gifts when you recommend this web site to your friends.
---
Would you like to share a reality shift story?
Send it to Cynthia at cynthia@realityshifters.com

Cynthia Sue Larson
P.O. Box 7393
Berkeley, CA 94707-7393

---
Thank you for sharing this message with a friend!
When forwarding this message, please remove the opt-out link at the very end,
so your subscription is not inadvertently cancelled.

To subscribe to the RealityShifters News and see all previous issues, visit:
http://realityshifters.com/pages/news.html


---
Please add realityshifters.com & constantcontact.com to your "Friends" list if you are with AOL, Earthlink.net, or use a Spam Blocking program or service, to receive the newsletter.

---
This web site © copyright 1999 - 2007 by Cynthia Sue Larson
All Rights Reserved
Privacy Statement