Please forward this ezine to anyone who'd like to create their best life.

RealityShifters News - March 2007
Create Your Best Life!
How Good Can it Get?


Access Your Power

"Success is a journey, not a destination. The doing is often more important than the outcome."
-- Arthur Ashe

Have you ever felt like there is something you would love to try... but never quite get around to doing, because you are afraid you might not do very well at it? When we fixate our attention on end results, we ignore the fact that true happiness more often comes from the process than the end result. I got a reminder of this last week, when I accepted an invitation to participate in a karaoke competition.

The song I chose to sing for my karaoke debut was Celine Dion's "That's the Way It Is." I felt nervous as I stepped onto the stage, unable to see the audience past the bright stage lights, and surprised to hear the music start before I could remember how I was supposed to sing the opening notes of the song. As I did the best I could to keep up with the words that appeared on a monitor, I found I couldn't sing the song while looking out at the audience, since I was having trouble relying upon my memory of what the tune was supposed to sound like, and the song seemed to go on forever. By the end of the song, I felt embarrassed that my first attempt at karaoke had not been as good as I had hoped it would be, and I felt tempted to slink quietly away, rather than sit down and listen to the next singers.

A shift in reality occurred inside me when I sat back down in the audience, as my perspective moved away from an egocentric view to one of my high self... my full power. I realized that the most important thing about participating in this new karaoke experience was that I do my best, learn new things, and provide support to everyone else who was participating. I had indeed done my best, I had certainly learned new things, and I suddenly grasped the importance of sticking around and providing support to the next singers. By noting and acknowledging my own fears and insecurities without allowing them to become the main focus of my attention, I was able to more fully enjoy the new experience. There was great joy in feeling attuned to my fuller power... that wise part of me which is above being concerned with how foolish I might appear, and who is more interested in finding out how good life can be for all concerned than whether something I attempted is judged as "good" or not.

I noted during this epiphany that many of the same things that make for good karaoke also make for a successful journey in life, when we remember how to access our true power:
* You connect best to your audience when you show your passion
* Keep on going, even if you make mistakes
* Show respect and support for those who do their best

The reward of paying more attention to the process than the result is that we can experience more of enjoying this present moment, right here, right now. And nothing feels better than knowing you are living this moment as fully, passionately, and compassionately as possible right now.



Wishing you all the best that life and love have to offer,
Cynthia Sue Larson
email Cynthia at cynthia@realityshifters.com



---
Books & CD by Cynthia Sue Larson:

"Speculations, theories and experiments from quantum science have now been entered into the debate which suggest that our world is far more mystical, complex, interactive and even humorous than the sterile, mechanistic dogma of classical scientific thought. Read, enjoy, be amazed, ponder REALITY SHIFTS"
-- Edgar Mitchell, Sc.D., Founder, Institute of Noetic Sciences & Apollo Astronaut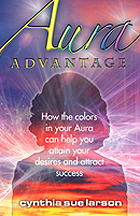 Aura Advantage is "In a chaotic and unpredictable world, Aura Advantage offers its readers grounding, inspiration, and hope."
-- Stanley Krippner

Aura eBook!

This empowering booklet provides tips for making every day the best it can be by harnessing the power of your aura.

The Aura Healing Meditations CD will help you improve your aura... and your life... in every way.

Karen Kimball "... combines the mystery of a Nancy Drew with the metaphysical daring-do of a Harry Potter book"
-- Alijandra
Order autographed books & CDs
in the RealityShifters Shop
including the newly released


Aura Advantage book!



---
In This Issue:

(1) Spiritual Life Coaching
(2) Upcoming Events
(3) Intriguing Articles & Interviews
(4) Your Reality Shift Stories
(5) Reality Shifting Q & A
(6) Reality Shifters Award Winner
(7) Reviews that Shift Your Reality
(8) Join in the Discussion
(9) Noteworthy Web Sites & Ezines

---
(1) Spiritual Life Coaching

Feeling stuck? Want help facing a challenging relationship? Need clarity making an important decision? Could you use some help shifting your reality? Are you curious to know your divine gifts? Are you ready to feel energized? If you answered yes to any of these questions, you can benefit from Spiritual Life Coaching with Cynthia! Contact Cynthia at cynthia@realityshifters.com to set up a life-enhancing telephone consultation today. http://realityshifters.com/pages/consultation.html

"Thank you so much, Cynthia! It is always such a joy to speak with you. One immediate outcome of this meditation is that there has been so much laughter in my office since! And in my life outside work, so much palpable love." Much love, Esther

---

(2) You're Invited to Fabulous Upcoming Events



Settle for More: Create Your Best Relationships
15 March 2007 11-12 am PST
Acclaimed relationship therapists Dr. Tom and Bobbie Merrill interview Cynthia Sue Larson to discover how we can create the best possible relationships. Tune in online to listen to this radio interview at:
http://www.health.voiceamerica.com



Just Energy Radio Show
16 March 2007 5-7 pm PST
Join host Dr Rita Louise as she interviews Cynthia Sue Larson for the Just Energy Radio show on the topics of auras and reality shifts. This live interview features an interactive chatroom, where listeners can hear the show, interact with one another, and ask questions. The toll-free number to call during the show with questions and requests for intuitive readings is 888-863-2722.
http://www.justenergyradio.com


---

Schedule an Event with Cynthia!
Would you like to invite your friends to attend an aura advantage workshop in your home? If you live in Northern California and are interested in planning such an event, email Cynthia for further information at: cynthia@realityshifters.com
Cynthia's schedule of events for this year is posted online at: http://realityshifters.com/pages/events.html


---

(3) Intriguing Articles & Interviews

Will Biology Solve the Universe?
Wired News
by Aaron Rowe
8 March 2007
For years, scientists have tried to develop a universal theory of everything. Steven Hawking predicts that such a theory will be discovered in the next 20 years. A new theory asserts that biology, not physics, will be the key to unlocking the deepest mysteries of the universe, such as quantum mechanics.
http://www.wired.com/news/technology/medtech/0,72910-0.html?tw=rss.index

Scientists Claim First in Using Brain Scans to Predict Intentions
CBS News Sci Tech
by Maria Cheng, AP Medical Writer
5 March 2007
At a laboratory in Germany, volunteers slide into a donut-shaped MRI machine and perform simple tasks, such as deciding whether to add or subtract two numbers, or choosing which of two buttons to press. They have no inkling that scientists in the next room are trying to read their minds _ using a brain scan to figure out their intention before it is turned into action. In the past, experts had been able to detect decisions about making physical movements in advance. But researchers at Berlin's Bernstein Center for Computational Neuroscience claim they have now, for the first time, identified people's decisions about how they would later do a high-level mental activity _ in this case, adding versus subtracting.
http://www.cbsnews.com/stories/2007/03/05/ap/tech/mainD8NM0O8G0.shtml


Reality Shifting Films
What do movies and TV shows like The Secret, The Jacket, What the Bleep Do We Know, Just Like Heaven, Indigo, Tru Calling, The Matrix, Frequency, Wonderfalls, Dark City, Sliders, The Lathe of Heaven, Sliding Doors and Passion of Mind have in common? These films feature the reality shift phenomenon in their plots. I find it especially refreshing to see films that describe reality shifts close to the way I've experienced them myself, and I am grateful that reality shifts are being featured more often than ever in film!
http://realityshifters.com/pages/films.html


---

(4) Your Reality Shift Stories

Car Key Returns
Shoshana
Jerusalem, Israel

I was attending a writing retreat quite a distance from where I live, when I discovered I couldn't find my car key. I searched high and low, feeling anxious because if I didn't find it quickly I would need a ride with someone from the retreat back to my city. I took a deep breath, decided it wasn't the end of the world, and left my car at the retreat so that I could get home with someone. I realized that I could get my spare car key from home and return the following day to collect my car, so that is what I did. I felt very calm, accepting the situation. The next day I returned to the retreat, and had another look for my car key, walking through the places I'd been the previous day. I asked a person who seemed to be someone who lived there at the a kibbutz, a communal living place, "Where would someone who found a key take it to?" He replied it would be either be posted on the notice-board outside the dining room, or in the secretary's office. He explained that sometimes people leave a note, and sometimes they leave the key itself. "Come," he said, "let's look first at the notice-board." And there, hanging on the board, was my car key! Seeing it there, I had the most incredible endorphin rush of gratitude at finding it there. It felt incredible that a little bitty car key could create such a feeling. This feeling continued as I drove my car home.

-=-=-=-=-=-=-=-=-=-=-=-=-=-=-=-=-=-=-=-=-=-=-=-=-=-=-=-=-=-=-=-=

Thank You for Sharing this Message with a Friend!

Would You Like to be a Subscriber?

You can view all past issues & subscribe by visiting:

http://realityshifters.com/pages/news.html

-=-=-=-=-=-=-=-=-=-=-=-=-=-=-=-=-=-=-=-=-=-=-=-=-=-=-=-=-=-=-=-=

Creating Reality Shifts with Driving
Shoshana
Jerusalem, Israel

Drivers who tail-end me would always incite my wrath up until this day. I would find myself swearing at them (to myself, aloud in my car). This time I found myself saying out loud, in my car, "Bless you for driving safely, thank you for keeping your distance." I was aware that I was also feeling it in my body, especially in my heart chakra. And I noticed that the car which was too close behind me dropped back. And this has happened on other occasions now. And when I can't reach that feeling and feel that way towards other drivers, then I know that there is work to be done on myself. I still have this incredible feeling of gratitude, that there is a way to make a change in what's happening on our roads. Israel has a very high mortality and accident rate on the roads, because of aggression. So this is my reality shift story and I'm expecting many more in different areas.

Pedestrian Responds to Silent Gratitude
Shoshana
Jerusalem, Israel

I was driving up a one-way street and saw a woman walking in the road with her back to me. This usually drives me crazy, because I feel that people who do this are not taking responsibility for their own safety, leaving it up to the driver. This time I said and felt, "Thank you for taking care of yourself." Do you know what she did? She didn't carry on walking in the same direction and then go up on to the sidewalk; she actually stopped in her tracks, turned around so that she was facing me, and walked towards me until she reached the back of the car she'd been walking next to and then around on to the sidewalk. What blew my mind was that she walked back the way she'd already come and faced me. For me, this was such proof of divine intervention that I was overcome emotionally by the realization that God was listening to me.


---

(5) Reality Shifters Q & A


Q: Dearest Cynthia,
I found your profile and website while searching Amazon.com for books relating to nimbus, auras, light work, and energy. I'm a 30 year old woman who sometimes sees what looks like nimbuses from old religious paintings. I also see light shifts, orbs, and tiny vibrating particles of energy. I don't know what any of it means, but I do feel as though I'm meant to ask you about it. Now, I don't see colors in the nimbuses, but rather different amounts of light and levels of clarity. I've seen people range from being 'out of focus' with fuzzy, dull nimbuses to radiant, magnificent nimbuses. Most people seem to fall somewhere in between. The man who had the fullest and most magnificent nimbus is one who I am becoming closer to throughout time When I saw his nimbus, I felt as though his higher self was revealing it to my higher self. Does that make sense? Likewise, once I saw a huge funnel of light leading up to the heavens spout from the top of my (troubled) sister's head. This was in one of her rare moments of clarity. Are you familiar with these sorts of events? I really don't know who else to ask and I hate to trouble you for this kind of information, but my curiosity has become overwhelming. If I'm meant to do something with my abilities, I need to know. I don't want to waste abilities that I could use to understand or help other people!
All the best,
-- Danielle

A: Thanks so much for writing to me regarding how you've been seeing light shifts, orbs, and tiny vibrating particles of energy. Nimbuses as seen over peoples' heads generally indicate a certain brightness and vitality to their being, with the brightest, clearest, most radiant areas above the crowns of their heads frequently accompanying people who practice regular prayer or meditation. You can get a glimpse of someone's higher self through the brilliant clarity of their nimbus, gaining a feeling of love and total connection to them which feels much stronger and deeper than others. Viewing a funnel of light leading up to the heavens shows the connection a person is making to receiving divine inspiration; the greater the clarity of such a connection, the brighter such a funnel of light will appear. You may also note specific shapes and colors matching what is being contemplated, or see complete scenes, as if watching a movie playing before your eyes. You may find it useful to keep a notebook which includes sketches of what you've observed along with what else you noted at the time; this is the way field biologists study all natural phenomena, which auras and energy fields certainly are. As you continue documenting the energy fields you observe, you can gain an ever-increasing understanding of the world of subtle energies around us.
lots of love,
-- Cynthia


---

(6) Reality Shifters Award Winner

I am proud to announce this month's winner of the Reality Shifting Award, for recognition of demonstrating consistent excellence in web site content and design, while helping people shift their reality in a positive direction:

Mind Tools
http://www.mindtools.com/
Each year, MindTools.com helps to improve and advance the careers of more than 4,200,000 visitors. At MindTools, you can learn more than 100 essential life, career training and management training skills. Freely available and outlined in easy to understand language, these skills are supported by practical examples, exercises and worksheets that support you and expand your understanding.


---

(7) Reviews that Shift Your Reality

Here is something that will give you nourishing food for thought! Every time you click through these links before making purchases at Amazon.com, you help offset the costs of the realityshifters web site and ezine! This is true even if you don't buy anything listed on the realityshifters site. You can see some of my favorite books at: http://realityshifters.com/pages/reviews.html



The Return of Sacred Architecture
The Golden Ratio and the End of Modernism
by Herbert Bangs

Enlightening, Comprehensive Overview of Art & History of Sacred Geometry in Architecture
http://amazon.com/exec/obidos/ASIN/1594771324/realityshifts

Herbert Bangs brings extraordinary insights into his scholarly yet impassioned exploration of sacred architecture, which is a relatively new and vitally important subject. Bangs presents illustrations and historical accounts of a wide variety of architectural structures, letting the stories of each example demonstrate the points he makes regarding archetypes of shelter (cave, clearing, garden, water, elements), archetypes of design (duality, hierarchy, materials), and resolution of form. Bangs enthusiastically praises those architectural masterpieces which prove themselves to be aesthetically pleasing and livable, and denounces designs which may have been lauded by others, yet actually are tolerable by few. There are reasons why some spaces can lead people to feel relaxed and refreshed... or confused and stressed... and Bangs brilliantly describes the architectural principles and qualities that create these results. THE RETURN OF SACRED ARCHITECTURE is a clarion call for adopting a more intuitive approach to design and a better appreciation for the sources of divine inspiration. I give this book my highest recommendation to everyone, since all of us are at some point involved in designing, buying, visiting, and living in architectural structures.


---

(8) Join in the Discussion

Do you have questions you'd like to ask, or reality shifting stories you'd like to share? Have you read good books, seen intriguing movies, or found a web site that relates to reality shifts? Get the inside scoop on reality shifts, contemplate the big questions and make new friends in the realityshifters discussion group at:
http://groups.yahoo.com/group/RealityShifters
---

(9) Noteworthy Web Sites


CALL WAVE
CallWave Fax delivers faxes directly to your email without any need for a fax machine or second phone line. Get CallWave Fax FREE for the first month, then just $7.95 per month after that.
http://www.anrdoezrs.net/click-1994406-10448131



KA GOLD JEWELRY
Find the perfect gifts for people who have everything! Ka Gold Jewelry also has fascinating free articles about spiritual symbols and sacred geometry which explain the advantages of wearing jewelry designed according to these ancient principles.
http://www.ka-gold-jewelry.com/index.php?ref=42



SECRETS TO ATTRACTING SUCCESS
Discover a practical method for attracting all the money, power, and every kind of success you desire. This system is down-to-Earth and easy to understand and implement immediately. FREE instant access!
http://thepowerfulcreator.com/cgi-bin/uam/x.cgi?a=r&id=1&aid=2&p=2



SPIRITUAL CINEMA CIRCLE Join the Spiritual Cinema Circle and receive new, thought-provoking spiritually rich films every month... great conversation starters when watching with friends.
http://www.spiritualcinemacircle.com/?af=17252



TAROT READINGS -- FREE!
Free tarot card readings can help guide you through your troubled emotions and clouded thoughts.
http://www.free-tarot-reading.net/index.php?affID=1006



TRANSFORMATIONAL BOOK CIRCLE
Louise Hay and Barbara de Angelis have changed the lives of millions of people... and these remarkable women credit books with changing their lives. Join the Transformational Book Circle and you will receive one book and one audio CD each month:
http://www.transformationalbookcircle.com/?af=17252



WILD DIVINE
Now you can try a free demo of the most amazing computer meditation biofeedback system ever. I feel like I'm in Shangri La in Wild Divine, where I can build stairways with my breath, meditate to open doors, and juggle balls with laughter. It's awesome!
http://www.myaffiliateprogram.com/u/wdivine/b.asp?id=1978&img=120x60.gif


---

4,000 RealityShifters News Subscribers live in 81 different countries around the world -- with the majority in the United States of America, Canada, the United Kingdom, Australia, Africa, New Zealand, India, the Netherlands, Malaysia, Mexico, Italy, Sweden, Germany, Brazil, Belgium, Singapore, South Africa, the Philippines, Japan, Norway, Ireland, Denmark, Spain and Israel.


---
Your One Stop Reality Shift Shop

RealityShifters has a secure "Shopping Cart"
to make it easy to view and place your order.
Get autographed copies of AURA ADVANTAGE & KAREN KIMBALL,
the AURA HEALING MEDITATIONS CD and more at:
http://realityshifters.com/pages/shop.html

---
Has this ezine been helpful to you?
All donations are much appreciated!
---

PERMISSION TO REPRINT: Please feel free to reprint any items from "RealityShifters News" in your own print or electronic newsletter, provided you also include the following paragraph:

Reprinted from RealityShifters News, a free ezine featuring
articles, stories, book reviews and websites for shifting
reality. Subscribe at http://realityshifters.com/ and receive
free gifts when you recommend this web site to your friends.
---
Would you like to share a reality shift story?
Send it to Cynthia at cynthia@realityshifters.com

Cynthia Sue Larson
P.O. Box 7393
Berkeley, CA 94707-7393


---
Thank you for sharing this message with a friend!
When forwarding this message, please remove the opt-out link at the very end,
so your subscription is not inadvertently cancelled.

To subscribe to the RealityShifters News and see all previous issues, visit:
http://realityshifters.com/pages/news.html


---
Please add realityshifters.com & RealityShifters@lb.bcentral.com to your "Friends" list if you are with AOL, Earthlink.net, or use a Spam Blocking program or service, to receive the newsletter.


---
This web site © copyright 1999 - 2007 by Cynthia Sue Larson
All Rights Reserved
Privacy Statement