Please forward this ezine to anyone who'd like to create their best life.

RealityShifters News - May 2007
How Good Can it Get?


Put Your Heart Into It

"We are all shaped and fashioned by what we love."
-- Ralph Waldo Emerson

We have a saying, "My heart isn't in it," to explain why end results have been lackluster, or why some other form of dissatisfaction became obvious somewhere along the way. The one thing that brings me the most joy in my favorite people, stories, movies and animals is that they all have remarkably good hearts. Right from the start, they hook me with a sense that here is something truly special... here is something truly rare. I feel more alive when I'm with them, and I miss them when we're apart. The best restaurants and stores have service personnel who put their heart into their work in a way that shines through their eyes and resonates in their voices. The best pets have a way of letting you know they love being with you. While horseback riding this month, I noted that one horse kept nuzzling me, taking deep breaths and resting her head near my chest... and then my back. "That means she likes you," the handler explained, and it was clear the feeling was mutual.

In addition to noting when and where your heart isn't involved, you can benefit even more by paying attention to where and when it is. One of the simplest and most telling ways you can quickly discern in advance the difference between disappointing and satisfactory situations is by asking yourself, "How much of my heart is involved?" Noticing and observing where your heart feels drawn and what feels drawn to you is the first step in acknowledging the otherwise invisible threads of cosmic resonance which attune you to universal vibrations. Once you start noticing the pull you feel on your heart, you can begin to consciously resonate with those who share the same vibrational frequency, learning a great deal about yourself and how you are feeling in the process. Whereas a great deal of chaos in one's life is generally an indication that there is a great deal of disharmony between your head, your heart, and your gut... to the degree that you are unified and at peace within yourself concerning all your various feelings and needs, you will notice peace in your relationships, and happiness with the choices you make and the situations that unfold.


Planning and doing things that bring you the greatest joy is the best way to keep yourself on track with all aspects of your life, so that you can best ensure you are productive in your work, satisfied with your romantic relationships, comfortable in your family relationships, and successful in your business ventures.



Wishing you all the best that life and love have to offer,
Cynthia Sue Larson
email Cynthia at cynthia@realityshifters.com



---
Books & CD by Cynthia Sue Larson:

"Speculations, theories and experiments from quantum science have now been entered into the debate which suggest that our world is far more mystical, complex, interactive and even humorous than the sterile, mechanistic dogma of classical scientific thought. Read, enjoy, be amazed, ponder REALITY SHIFTS"
-- Edgar Mitchell, Sc.D., Founder, Institute of Noetic Sciences & Apollo Astronaut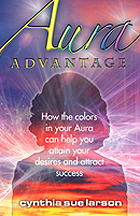 Aura Advantage is "In a chaotic and unpredictable world, Aura Advantage offers its readers grounding, inspiration, and hope."
-- Stanley Krippner

Aura eBook!

This empowering booklet provides tips for making every day the best it can be by harnessing the power of your aura.

The Aura Healing Meditations CD will help you improve your aura... and your life... in every way.

Karen Kimball "... combines the mystery of a Nancy Drew with the metaphysical daring-do of a Harry Potter book"
-- Alijandra
Order autographed books & CDs
in the RealityShifters Shop
including the newly released


Aura Advantage book with full-color aura illustrations!



---
In This Issue:

(1) Spiritual Life Coaching
(2) Upcoming Events
(3) Intriguing Articles & Interviews
(4) Your Reality Shift Stories
(5) Reality Shifting Q&A / Mail Bag
(6) Reality Shifters Award Winner
(7) Reviews that Shift Your Reality
(8) Join in the Discussion
(9) Noteworthy Web Sites & Ezines

---
(1) Spiritual Life Coaching

Feeling stuck? Want help facing a challenging relationship? Need clarity making an important decision? Could you use some help shifting your reality? Are you curious to know your divine gifts? Are you ready to feel energized? If you answered yes to any of these questions, you can benefit from Spiritual Life Coaching with Cynthia! Contact Cynthia at cynthia@realityshifters.com to set up a life-enhancing telephone consultation today. http://realityshifters.com/pages/consultation.html

"If there is one thing I can be grateful for it is that I trusted my intuition and made contact with you - and from that the gift of connecting to myself (and other people) again! And I am very grateful that you are doing this work and following your true self." -- Susan

---

(2) You're Invited to Fabulous Upcoming Events

Author Circle Book Signings at the 6th Annual Pagan Festival
Berkeley, California
12 May 2007 12 noon - 2 pm PST
Meet Cynthia at the author circle table for book signings of her books Aura Advantage and Karen Kimball & the Dream Weaver's Web. Stop by to say 'Hi!'
http://thepaganalliance.org/pagan-festival-parade-2007.asp

Create the Best 2007!
20 May 2007 at 11:30 am
Sacramento Holistic Living Expo, Holiday Inn Northeast 5321 Date Avenue at Madison, Sacramento, CA

Learn the four fundamental Qi Gong movements for maintaining an energized, relaxed, healthy glow no matter what is going on around you.
http://www.holisticlivingexpo.com/
FREE Pass ($5 Value)


---

Schedule an Event with Cynthia!
Would you like to invite your friends to attend an aura advantage workshop in your home? If you live in Northern California and are interested in planning such an event, email Cynthia for further information at: cynthia@realityshifters.com
Cynthia's schedule of events for this year is posted online at: http://realityshifters.com/pages/events.html


---

(3) Intriguing Articles & Interviews

Meditation Sharpens the Mind
LiveScience
by Charles Q. Choi
7 May 2007
Three months of intense training in a form of meditation known as "insight" in Sanskrit can sharpen a person's brain enough to help them notice details they might otherwise miss. These new findings add to a growing body of research showing that millennia-old mental disciplines can help control and improve the mind, possibly to help treat conditions such as attention deficit hyperactivity disorder (ADHD). "Meditation is a family of methods designed to facilitate regulation of emotion and attention," said Davidson, who headed up the study. "One of the fundamental mysteries that is now becoming better understood as we go along but which is still a breakthrough area of research is neuroplasticity, the idea that we can literally change our brains through mental training," Davidson told LiveScience. "Certain kinds of mental characteristics such as attention or certain emotions such as happiness can best be regarded as skills that can be trained."
http://www.livescience.com/health/070507_mental_training.html

Is This Really Proof That Man Can See Into the Future?
This is London
5 May 2007
Do some of us avoid tragedy by foreseeing it? Some scientists now believe that the brain really CAN predict events before they happen. Professor Brian Josephson, a Nobel Prize-winning physicist from Cambridge University, says: "So far, the evidence seems compelling. What seems to be happening is that information is coming from the future. In fact, it's not clear in physics why you can't see the future. In physics, you certainly cannot completely rule out this effect."
http://www.thisislondon.co.uk/news/article-23395112-details/Is%20this%20REAL LY%20proof%20that%20man%20can%20see%20into%20the%20future/article.do


Reality Shifting Films
What do movies and TV shows like Deja Vu, The Secret, The Jacket, What the Bleep Do We Know, Just Like Heaven, Indigo, Tru Calling, The Matrix, Frequency, Wonderfalls, Dark City, Sliders, The Lathe of Heaven, Sliding Doors and Passion of Mind have in common? These films feature the reality shift phenomenon in their plots. I find it especially refreshing to see films that describe reality shifts close to the way I've experienced them myself, and I am grateful that reality shifts are being featured more often than ever in film!
http://realityshifters.com/pages/films.html


---

(4) Your Reality Shift Stories

My Jedi Knight Moment
Milli Thornton
Ridgeland, Mississippi
http://www.fearofwriting.com

Wanted to tell you of a fun and synchronistic follow-up to having my anecdote published in Reality Shifters News. You had chosen the title "My Jedi Knight Moment" for it. At the time I thought that simply matched what I'd heard the bearded post office man say - "I will let this pass through" - which, as you know, reminded me of the hand motion that Obi-Wan Kenobi makes in the movie to get the stormtroopers to pass him through. But, yesterday, as I was yet again standing in line at the PO, I looked over at the bearded man and noticed a poster right above his station. Your local post office may be featuring the very same poster, as the USPS is currently using a Star Wars theme to advertise certain services and even offering a range of Star Wars postage stamps. Among the designs, they're using a Jedi Knight (I think it may even be the young Obi-Wan) for their Express Mail services. There he was, almost as large as life, in Jedi Knight battle stance, light saber in hand, on a poster immediately above the bearded man's regular station. Thought you might enjoy hearing about it.

Note from Cynthia: This is such a great follow-up to your Jedi Knight Moments story! It seems rather remarkable to me that no sooner did we publish your story in the April issue of RealityShifters News than post offices all across the United States began sporting Jedi Knight posters and pictures! Mere coincidence? I think not! :-)

-=-=-=-=-=-=-=-=-=-=-=-=-=-=-=-=-=-=-=-=-=-=-=-=-=-=-=-=-=-=-=-=

Thank You for Sharing this Message with a Friend!

Would You Like to be a Subscriber?

You can view all past issues & subscribe by visiting:

http://realityshifters.com/pages/news.html

-=-=-=-=-=-=-=-=-=-=-=-=-=-=-=-=-=-=-=-=-=-=-=-=-=-=-=-=-=-=-=-=

Manifesting the Man of My Dreams
Donna
Calgary, Alberta, Canada

Awesome newsletter, Cynthia, and once again, very timely to what is going on in my own life. As for living the story I most love, I spent a long time focusing on one aspect of my life, and that was financial freedom. I am now truly financially free, and I don't have to work if I don't want to right now. I'm pretty happy to have all of those areas of my life settled and stress free. The one area of my life which was out of whack was the romantic area. When my marriage ended and I had a really bad romantic encounter, I was turned off of romance and couldn't see how it would ever happen in my life. I decided to do just what you said and wrote a story. I pictured the perfect man, just the way I wanted him. The first qualifications were that he have a good job, his own car, be able to take care of himself financially and be in roughly the same income bracket. Once these basics were described, I figured out what I wanted physically in a man... dark hair and blue eyes, and 'easy on the eyes' with strong, muscular defined arms and chest and a nice butt. I wanted someone who likes kids and can deal with them when they're always running and involved with so many things. I wanted someone who loves outdoor activities like camping and fishing and canoeing, and who doesn't mind picking up at a moment's notice to go for a barbecue and fishing by the lake. Entertaining is also important to me, and I wanted a singer or entertainer, so he could understand my involvement with a number of charitable events. I wanted someone loving, caring and kind who I could connect with in total honesty who could understand my children and I and who I could understand. Someone who wasn't a leaver and is like me and willing to go down the ship... who is compatible with me sexually and spiritually. I wrote a whole story including everything from emotions and feelings to interests and favorites. After I had written all that down, I started writing stories about us in different situations, from how we met to songs we sang on stage to each other, even down to me singing, "Crazy for You" while dancing nice and close. I saw him singing "Try" to me, and saw us hiking, camping and having fun with the kids... lying in bed on lazy Saturday mornings, swimming in the lake, driving with the windows down and the music loud. I saw us together in 20 years, and 30 years, and saw him standing beside me at my daughter's wedding and my son's graduation from basic training. I even saw him handing me our first grandchild, which is going to be a little girl.

Now what is the point of all this? I wrote it down, and it's happening. He's everything I wanted financially and physically. The first time I laid eyes on him, he was singing, "Try," and the first song I sang after that (and I don't get to pick the songs I sing) was "Crazy for You." He's an entertainer and the best friend of a really good friend of mine, is close to me in age, is a responsible oldest child of his family, close to me in age, and with a great chest! Most importantly, that connection and honesty is there... I'm able to be completely open with him and we're on the same wavelength. I understand everything he says. There's no double talk or misunderstanding... it's awesome! A lot of the other stuff hasn't unfolded yet, but I just KNOW it's going to unfold the way it's written. I can feel it, and interestingly, so can everyone else that's around me. Right from the first night, both of us have been getting questions from friends of ours about each other. :-) Now I just have to figure out which area of my life I'm going to choose to write and escalate next! Thanks, Cynthia. I'm so grateful for your newsletters, and for you!

Note from Cynthia: I'm so happy you shared such a wonderful story with us, Donna! The concept of "write it down, make it happen," is powerful, indeed, and this story is such an excellent example of how to write down an intention with so much love and so many visceral details that your entire being is involved in the process. We can all take a page out of your book when it comes to making time to keep a dream journal!


---

(5) Reality Shifting Q&A / Mail Bag


Dearn Cynthia,
I was wondering if you could tell me what my 8th finger represented. I'm at work right now and it just randomly started bleeding and I was just going to brush it off as nothing, but then I remembered the time when we were talking and my 2nd finger was bleeding. So if it really means something, what is it?
Love, Love, LOVE
-- Annalise :)

Dear Annalise,
In my book, Reality Shifts: When Consciousness Changes the Physical World, I describe how there is significance to ten different levels of consciousness, which we can see as various levels of reality shifting awareness. The eighth finger symbolizes the eighth dimensional level of consciousness, which relates to nature mysticism when we realize "I am the mountain," while still knowing your own body and mind's boundaries. This is the gateway to the psychic realm, and this awareness encourages us to transcend personal limitations as we explore the collective whole.
lots of love,
-- Cynthia


---

(6) Reality Shifters Award Winner

I am proud to announce this month's winner of the Reality Shifting Award, for recognition of demonstrating consistent excellence in web site content and design, while helping people shift their reality in a positive direction:

Success Consciousness
http://www.successconsciousness.com
Success Consciousness helps awaken the wisdom and power within you, with dedication to positive thinking, self improvement, mind power, inner peace, spiritual growth and spiritual awareness.


---

(7) Reviews that Shift Your Reality

Here is something that will give you nourishing food for thought! Every time you click through these links before making purchases at Amazon.com, you help offset the costs of the realityshifters web site and ezine! This is true even if you don't buy anything listed on the realityshifters site. You can see some of my favorite books at: http://realityshifters.com/pages/reviews.html



Dancing with Cats
From the Creators of the International Best-Seller Why Cats Paint

Something Completely Different
http://amazon.com/exec/obidos/ASIN/0811824152/realityshifts

When I first saw the cover of this book, I laughed out loud with joy and a sense of wonder about whether this book was for real. Surprisingly, DANCING WITH CATS is not a joke, and is an excellent primer on how to go about having some fun with your cats in a rather unusual way... by dancing with them. Since I don't currently have a cat, I borrowed one to get a feeling for how possible it might be to get a cat to dance. I succeeded in completely astonishing the cat as I began to notice the ways that the cat watched me moving around with movements that showed we were beginning to move together as one. Clearly, some cats enjoy dancing more than others, and this is one activity that may take a while to get fully into the swing of with your feline dancing partners. From the ancient history of cat dancing to modern age tips and techniques, this book provides a wealth of information about a subject most of us know very little about. The photographs are truly stunning, and you just might get some new ideas about what kinds of fun you can have dancing with cats. Highly recommended!


---

(8) Join in the Discussion

Do you have questions you'd like to ask, or reality shifting stories you'd like to share? Have you read good books, seen intriguing movies, or found a web site that relates to reality shifts? Get the inside scoop on reality shifts, contemplate the big questions and make new friends in the realityshifters discussion group at:
http://groups.yahoo.com/group/RealityShifters
---

(9) Noteworthy Web Sites


PURCHASE ting! AND GET NEARLY $1,000 IN FREE BONUSES
Arupa Tesolin has written a hot new international book on using intuition at work & in business called ting! - A Surprising Way to Listen To Intuition & Do Business Better. As ting! makes it's debut, Arupa, myself and other intuition leaders have put together a set of special bonuses valued at nearly $1,000 when you purchase at least 2 copies of the book. The catch? It's only available from Tuesday May 15th to Thursday May 17th. Be sure to tell interested friends & colleagues so they can participate, too!
http://www.intuita.com/tingbonus.htm



CALL WAVE
CallWave Fax delivers faxes directly to your email without any need for a fax machine or second phone line. Get CallWave Fax FREE for the first month, then just $7.95 per month after that.
http://www.anrdoezrs.net/click-1994406-10448131



KA GOLD JEWELRY
Find the perfect gifts for people who have everything! Ka Gold Jewelry also has fascinating free articles about spiritual symbols and sacred geometry which explain the advantages of wearing jewelry designed according to these ancient principles.
http://www.ka-gold-jewelry.com/index.php?ref=42



SECRETS TO ATTRACTING SUCCESS
Discover a practical method for attracting all the money, power, and every kind of success you desire. This system is down-to-Earth and easy to understand and implement immediately. FREE instant access!
http://thepowerfulcreator.com/cgi-bin/uam/x.cgi?a=r&id=1&aid=2&p=2



THE FOUR BUILDING BLOCKS OF SUCCESSFUL AFFIRMATIONS
Jennifer Shepherd's awesome new ebook is grounded in common sense, with liberal dashes of zesty inspiration and lots of practical advice from someone who's 'Been there, done that.' Shepherd, the Lipstick Mystic, describes four basic building blocks of successful affirmations in a way that doesn't require you to "believe" anything. These principles simply ARE, and you can make use of them today to start attracting more of what you do want instead of what you don't. This ebook describes how we are constantly creating based on the vibrations we are sending out through our emotions, intentions, and actions, and helps us to start shifting into experiencing situations that give us happiness instead of sorrow.
http://realshifts.drgnhtm2.hop.clickbank.net/



SPIRITUAL CINEMA CIRCLE Join the Spiritual Cinema Circle and receive new, thought-provoking spiritually rich films every month... great conversation starters when watching with friends.
http://www.spiritualcinemacircle.com/?kbid=1459



TAROT READINGS -- FREE!
Free tarot card readings can help guide you through your troubled emotions and clouded thoughts.
http://www.free-tarot-reading.net/index.php?affID=1006



TRANSFORMATIONAL BOOK CIRCLE
Louise Hay and Barbara de Angelis have changed the lives of millions of people... and these remarkable women credit books with changing their lives. Join the Transformational Book Circle and you will receive one book and one audio CD each month:
http://www.transformationalbookcircle.com/?af=17252



WILD DIVINE
Now you can try a free demo of the most amazing computer meditation biofeedback system ever. I feel like I'm in Shangri La in Wild Divine, where I can build stairways with my breath, meditate to open doors, and juggle balls with laughter. It's awesome!
http://www.myaffiliateprogram.com/u/wdivine/b.asp?id=1978&img=120x60.gif


---

4,100 RealityShifters News Subscribers live in 84 different countries around the world -- with the majority in the United States of America, Canada, the United Kingdom, Australia, Africa, New Zealand, India, the Netherlands, Malaysia, Mexico, Italy, Sweden, Germany, Brazil, Belgium, Singapore, South Africa, the Philippines, Japan, Norway, Ireland, Denmark, Spain, Israel, and Panama.


---
Your One Stop Reality Shift Shop

RealityShifters has a secure "Shopping Cart"
to make it easy to view and place your order.
Get autographed copies of AURA ADVANTAGE & KAREN KIMBALL,
the AURA HEALING MEDITATIONS CD and more at:
http://realityshifters.com/pages/shop.html

---
Has this ezine been helpful to you?
All donations are much appreciated!
---

PERMISSION TO REPRINT: Please feel free to reprint any items from "RealityShifters News" in your own print or electronic newsletter, provided you also include the following paragraph:

Reprinted from RealityShifters News, a free ezine featuring
articles, stories, book reviews and websites for shifting
reality. Subscribe at http://realityshifters.com/ and receive
free gifts when you recommend this web site to your friends.
---
Would you like to share a reality shift story?
Send it to Cynthia at cynthia@realityshifters.com

Cynthia Sue Larson
P.O. Box 7393
Berkeley, CA 94707-7393


---
Thank you for sharing this message with a friend!
When forwarding this message, please remove the opt-out link at the very end,
so your subscription is not inadvertently cancelled.

To subscribe to the RealityShifters News and see all previous issues, visit:
http://realityshifters.com/pages/news.html


---
Please add realityshifters.com & constantcontact.com to your "Friends" list if you are with AOL, Earthlink.net, or use a Spam Blocking program or service, to receive the newsletter.


---
This web site © copyright 1999 - 2007 by Cynthia Sue Larson
All Rights Reserved
Privacy Statement