Punta Serena Holistic Mexican Spa Experience
by Cynthia Sue Larson
January 2002
I arrived at the idyllic Punta Serena adult-only holistic spa in Mexico on December 26, 2001 with my sister, who took me on a much-needed 12 day vacation for my birthday. The restaurant, yoga and meditation room, pool and hot tubs overlook Tenacatita Bay located on Mexico's gorgeous west coast, between Puerto Vallarta and Manzanillo. If it is possible to experience the feeling of encountering too much beauty in one place, it surely happens here.

As I write this, I am sitting in the shade of a structure of palm fronds on the private clothing-optional Punta Serena beach, watching brown pelicans dive for fish as gentle waves lap the sandy shore. Only one other woman is on this beach now, and we just discovered that neither of us are wearing watches. My stomach tells me it's about 2:00 PM, time for a tasty lunch buffet upstairs whenever I'm ready.

The bay here near Manzanillo (where Bo Derek starred in the movie "10") is almost completely surrounded by protective hills, so only one sixth of the visible horizon is open to the Pacific Ocean. Temperatures here in December range from 60 to 90 degrees Fahrenheit every day, and most of the days and nights here have been clear.

My typical day at Punta Serena begins by watching the sun rise over the hills to the east, a breakfast of fresh-squeezed juice, coffee, a choice of six different hot dishes, pastries, fresh fruits (including melt-in-your-mouth papaya) and vegetables and eggs and/or pancakes cooked by the chef. Diners are serenaded by birds in the outdoor dining room under the palapas, and the sound of waves mingles with soft jazz or new age music. The emphasis is on healthy cuisine here, and many vegetarian entrees are available at each meal. I then go to the morning Chi Kung or Yoga class, to see and hear the soothing sounds of the waves. Afterwards, I decide whether to enjoy the pleasant atmosphere by the pool and spa, or down at the beach. What a tough choice!

Two of Punta Serena's three hot tubs are situated on the cliff above the bay, and provide exceptional views of the breathtakingly beautiful natural surroundings. I enjoyed bringing a drink or two from the bar down to the hot tub, and savoring every sip as I watched the sun go down and the stars come out at night.

A siesta after lunch is always a fine idea, and since the rooms all have air-conditioning, cable TV, and a hammock, it is easy to relax and rest during the hottest time of the day. There are only 24 rooms here, and each one feels spacious and features spectacular views from the windows and the private balcony or patio. Staying at Punta Serena includes free access to the adjacent Blue Bay Club Los Angeles Locos, and is "all-inclusive", meaning that one price is paid which includes lodging, food, and included activities.

The people are what makes this resort experience so special. Everyone from the maids, groundskeepers, waitresses, and chef to the holistic healers and teachers exude positive energy and show they genuinely care.



---

Something for Everyone

Since Punta Serena is a holistic resort, a number of healing possibilities are available with skilled and friendly practioners of Reiki, Phoenix Rising Yoga, and Tibetan meditation. Whether your goal is relaxation (meditation, massage, Reiki, watsu), inner work (phoenix rising yoga, chakra balancing, card readings), or exercise (yoga, chi-kung, or the exercise room) there is something exactly right for you.

Chi-kung, or QiGong helps practioners let go of their energy blocks by relaxing mind, body, and emotions. Free morning chi-kung (active style) classes are taught for one hour every other day by Gretchen Andersen.

Yoga increases body awareness. Free morning yoga classes (Hatha Yoga style) are taught for one hour every other day by Ani Mac. For a fee, Ani also provides individual yoga classes, and Phoenix Rising Yoga which helps clear personal issues held in the body, mind, and emotions through guided breathing and assisted yoga postures.

Reiki & Reflexology treatments are provided for a fee by Charmaine Conrad on the massage tables located on the cliff overlooking Tenacatita bay. The Reiki treatment is marvelously soothing and healing, leaving one feeling energized with every muscle completely relaxed.

The Exercise Room includes a stair-master, a walking machine with adjustable ramp, a couple of exercise bikes, weight training equipment, sauna, jacuzzi, and showers. Two televisions are located conveniently, so you can watch cable TV while you work out.

Another unique offering in Punta Serena is the Temazcal cleansing ceremony. This ceremony is the traditional Mexican herbal steam bath which takes place inside an adobe chamber. The word Temazcal or temazcalli is made of two Nahuatl words: "Temaz" which means bath, and "Calli" which means house or home. The Temezcal ceremony is an ancient one, which the Aztecs, Zapotecs, Mixtecs, Mayans, and other indigenous groups have used as a therapeutic and purifying ritual. At Punta Serena, this ceremony is conducted (for a fee on first-come, first-served basis) by Gretchen Andersen, who combines shamanic traditions from Mexico with those of other cultures, such as Tibet.

---


Day Trips

Barra de Navidad is a nearby town that is well worth a visit. Local vendors display their wares in booths, and you can purchase silver jewelry, hammocks, brightly colored wooden boxes, beaded bracelets and many other things.

A Jungle Boat Ride through the mangroves can be arranged at the Blue Bay Club (just down the steps from Punta Serena) to nearby Tenacatita for snorkeling, shopping, and walking along the beach.



---

Wildlife

The Ringtailed Coatimundi, or Tejon as it is more commonly known in Mexico, is a frequent visitor to Punta Serena and its sister Blue Bay resort. A medium sized carnivore, the coati stands about 12 inches at the shoulders, weighs up to 14 pounds and has an overall body length of up to 48 inches. These furry animals are nocturnal, and begin their rounds as the sun goes down each evening. Watching the tejones leap over the stone railings leading down to the lower jacuzzi is better than watching sheep!

Alligators frequent the mangrove swamps in the jungle by the Blue Bay club, and can often be seen sunning themselves near the water. As alligator experts wisely advise, "Under no circumstances should you approach an alligator closely. They are quite agile, even on land."

Brown Pelicans are often seen diving from the sky into the bay to catch fish in the calm tropical waters. Since pelicans are at the top level of the food chain, they are an excellent indicator species for judging the environmental health of the area. I once saw forty pelicans flying together in a great swirling vortex, and every day watched at least 20 pelicans.

Dolphins often swim into the bay, and can be seen swimming near shore on occasion. I saw a dolphin on several days in the early morning hours -- both while I was eating breakfast, and during the morning yoga and chi kung classes.

Iguanas climb the coconut trees and an especially large iguana is fond of sunning by the Temezcal area every afternoon around 4:00 PM.

Crabs frequent the private beach, and can be seen climbing about on the rocks during low tide. I enjoyed bringing larger shells to some of the crabs, and watching them upgrade to more spacious attire.



---


PUNTA SERENA
Km 20 Carretera Federal 200
Tenacatita, 48989
MEXICO

Area Airport:
Manzanillo International Airport - 45 minutes by taxi


To Make Reservations, Contact:

BLUE BAY CLUB LOS ANGELES LOCOS
http://www.bluebayresorts.com/
1-800 BLUE BAY
reservlal@bluebayresorts.com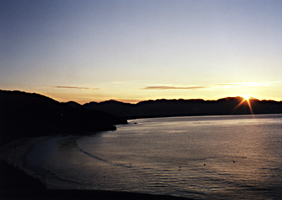 Home / News / Articles / Bookshelf
Your Stories

Copyright @ 2002 by Cynthia Sue Larson, All Rights Reserved