Cynthia Sue Larson is one of the preeminent authorities on consciousness and the newly converging fields of quantum physics, quantum biology, the placebo effect, positive psychology, sociology and alternative medicine. Cynthia's passion for sharing cutting-edge scientific studies energizes her audience to explore the truth of who we are and what we are capable of. Cynthia's gift for illustrating scientific concepts with amazing real-life experiences and fun activities ensures that her talks are as memorably entertaining as they are educational. Topics include: science, spirituality, quantum physics, meditation, and consciousness.
Cynthia's best-selling books invite people to open their minds to imagining new possibilities. She inspires audiences to envision new possibilities for themselves and their loved ones on the basis of solidly tested scientific theories and exceptional experiences. Cynthia presents thought-provoking papers at international conferences on science, spirituality, and consciousness. Results from her "How Do You Shift Reality?" surveys conducted in April 2000 and June 2013 document incidences of the most commonly experienced types of reality shifts, and her RealityShifters web site has compiled one of the most extensive collections of reality shift reports in the world. Cynthia's popular ezine,RealityShifters, is eagerly awaited each month by thousands of subscribers world-wide.
Cynthia's articles have appeared in journals ranging from Magical Blend to Parabola, and she has appeared in numerous TV and radio shows including the Discovery Channel, the History Channel, Coast to Coast AM with George Noory, and BBC. She has a degree in physics from UC Berkeley, an MBA degree, and a Doctor of Divinity. Cynthia invites us to focus our attention on the positive when considering events in the past, present, and future by asking, "How good can it get?"
---
Feedback from Cynthia's Speaking Engagements
"Fun--alive--present--and a mind that is so full and firing so fast... Whoo hoo! The night flew! Many people said, 'Get her back here!' You are always welcome back."
"Cynthia you were absolutely spectacular! I really enjoyed what you shared. You were fascinating, and I am looking forward to learning more!"
"Cynthia Sue Larsen was absolutely fantastic! I loved her presentation. Joyful, clear, concise, educated, elegant and full of truths."
"The presentation last night was awesome. I was so excited, I couldn't sleep."
---
Three of Cynthia's Best-Selling Books
QUANTUM JUMPS is one of the most remarkable books I've read in years.
-- Larry Dossey, M.D.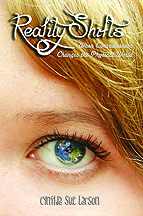 In Reality Shifts, "Cynthia Larson helps restore a sense of majesty and wonder to our everyday world."
-- Larry Dossey, M.D.
"... a very detailed account of the history of money and exercises which allow us to tap into the energy of money to create a flow money of in our lives today."
-- Monique Chapman